Cloudflare turned 10 this past week and it's celebrating the European way. What do we mean by that? Well here in America, when it's our birthday we usually get spoiled with presents, treats, and surprises. From what our Austrian team member tells us, in other places around the world, you are the one who supplies the treats for everyone else when it's your birthday. For its birthday, Cloudflare is celebrating with a gift to us all – new features you can start using right away when you have Secure Web Accelerator Plus and Professional powered by Cloudflare.
3 New Features Available in the Cloudflare Dashboard
One of the main benefits of upgrading from Secure Web Accelerator to Secure Web Accelerator Plus or Professional is getting access to the Cloudflare Dashboard. Secure Web Accelerator is a no brainer – it improves your site's speed, security, and performance just by adding your domain name to the Cloudflare network. When you upgrade to Secure Web Accelerator Plus or Professional you get even more benefits, including the new birthday features.
There are basic facts every owner should know about their website, like how many people are visiting your site, what pages they are going to, where in the world they are visiting from, and what other websites sent traffic to your site. You can use any of the "free" analytics tools out there, but there is a price to pay. In order to understand how your site is performing you have to give up the privacy of your visitors.
In honor of its birthday, Cloudflare is launching privacy-friendly analytics. Instead of tracking "unique" visitors by a cookie or IP address, Cloudflare is measuring how many people interact with your website using visits. These visits tell you how many times people came to your website and clicked around before navigating away. All without tracking individuals. Afterall it's not Cloudflare's business what you or your visitors do on the Internet, they just want to help website owners understand how it impacts their website.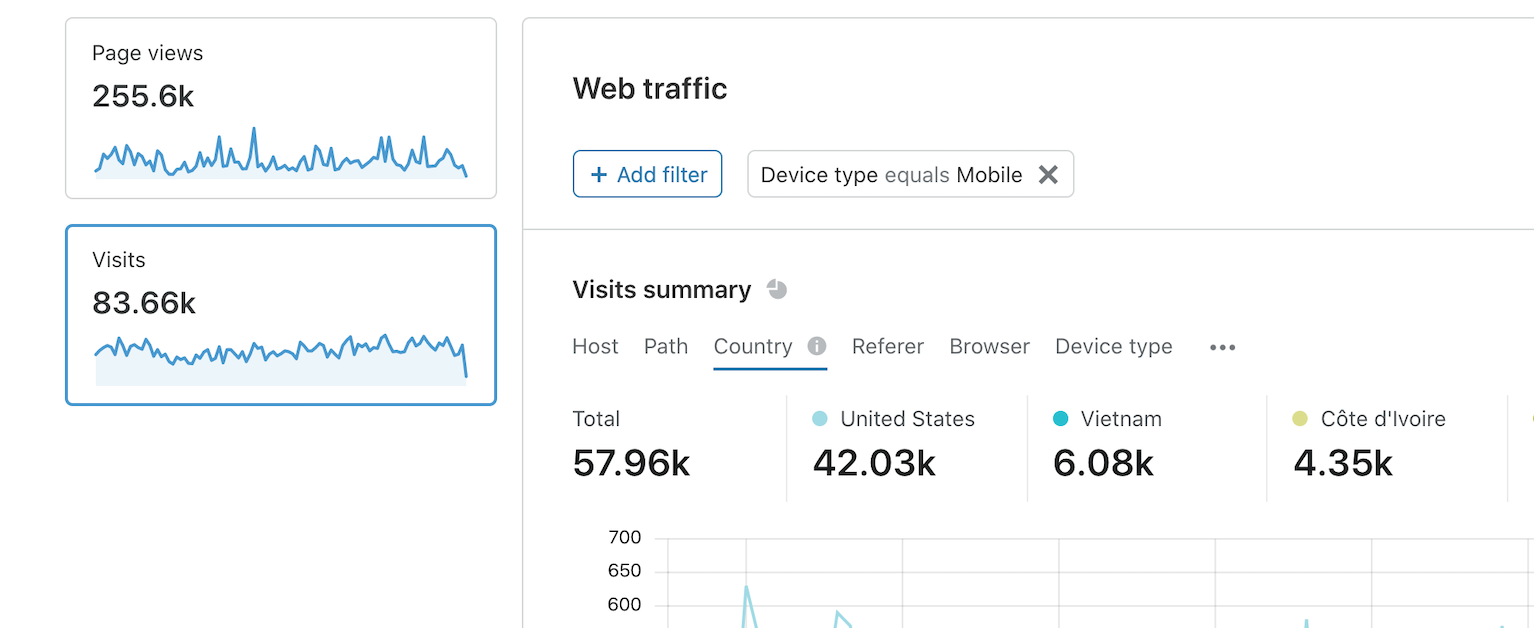 For Secure Web Accelerator Plus and Professional customers, very soon, you'll be able to see if bots are reaching your website – and with just a click, block them by using Firewall Rules.
As Internet usage grows, so does the number of attacks. Cloudflare tracks and measures activity across the Internet, both good and bad, to help improve the Cloudflare service and protect Internet users everywhere. Until now, Cloudflare has kept these insights available internally. With the launch of Cloudflare Radar, Secure Web Accelerator Plus or Professional customers can see threats and trends based on the aggregated data collected by Cloudflare. With 1 billion unique IP addresses connecting to Cloudflare's network, Cloudflare has one of the most representative views on Internet traffic worldwide.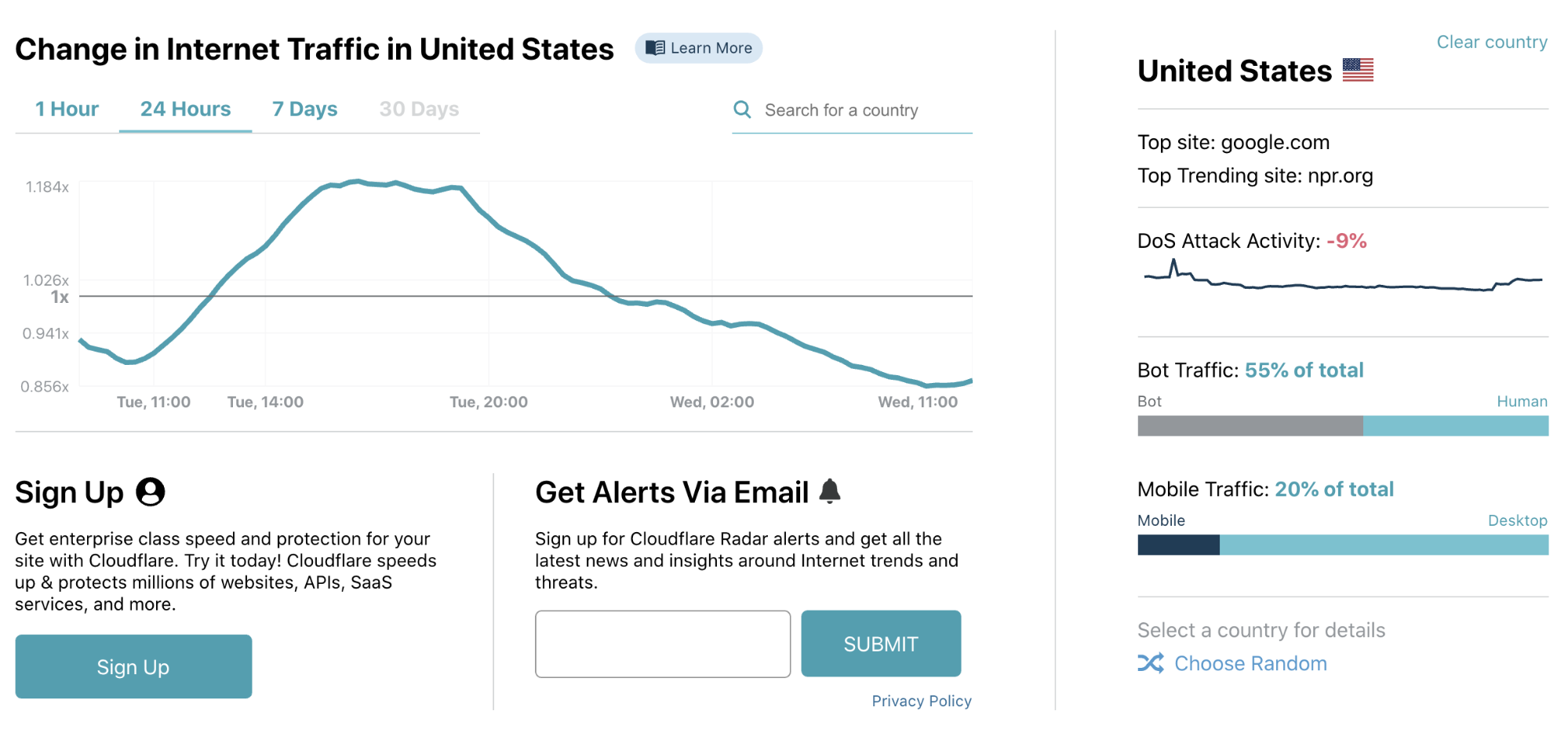 What insights you will be able to explore with Cloudflare Radar:
Radar Internet Insights
Discover news about new technologies, browsers or operating systems, developments in Internet traffic, and traffic patterns related to events like the COVID-19 pandemic.
Change in Internet Traffic
Drill down on specific countries with interesting data points.
Most Popular and Trending Domains
Learn which domains (worldwide and for individual countries) are most popular and have recently started trending.
Radar Domain Insights
Dig in deeper on an individual domain to understand global rankings as well as security information.
Attack Activity
Learn about the different types of cyber attacks mitigated by Cloudflare.
Technology Trends
Mobile vs. desktop traffic, browser by country, and HTTP vs HTTPS traffic.
Radar IP Insights
Look up an individual IP address instead of a domain name to discover different information.

All of these insights and more are available in your Cloudflare dashboard with Secure Web Accelerator Plus and Professional.
3. WordPress Automatic Platform Optimization
WordPress is the most popular website builder solution with 38% of all websites. Because it is an open-source platform, you are always at risk of DDoS attacks and incurring performance penalties because of plugins or other sources that, while necessary, may be hard to pinpoint and resolve.
Secure Web Accelerator automatically improves the static content of your website. With the Automatic Platform Optimization launch, you won't suffer from common WordPress issues such as slowness caused by shared hosting congestion, slow database lookups, or misbehaving plugins. This service is included, at no additional cost, in our Secure Web Accelerator Plus and Professional plans.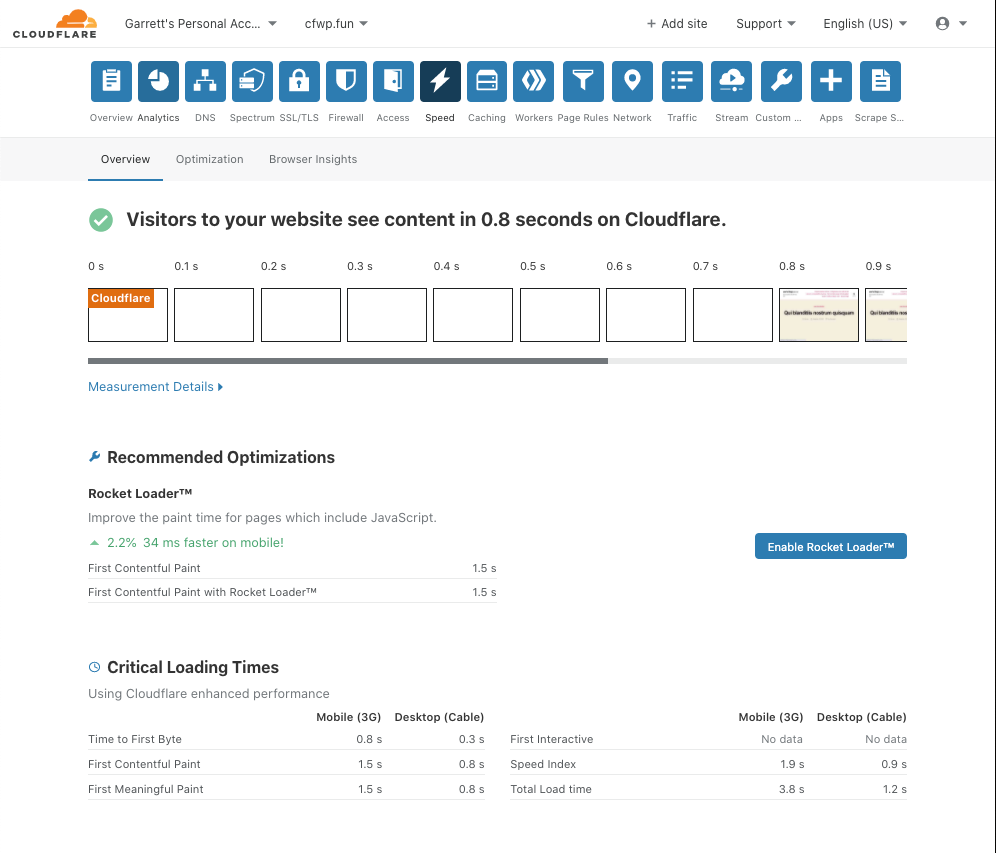 On top of seeing your site's performance, Cloudflare recommends ways for you to further increase your performance. If you are using WordPress, then you can test your site with Automatic Platform Optimizations to estimate the benefits.
Cloudflare Birthday Takeaway
Each second, Cloudflare handles on average 18 million HTTP requests and 6 million DNS requests. Handing so much of the Internet traffic worldwide ensures that Cloudflare is always learning. Leveraging features and optimizations offered in the Cloudflare dashboard are as simple as the flip of a switch. It doesn't take in-depth knowledge to make a significant difference to your site's performance and protection with these new features.