No matter if you own an online business, you're migrating to the cloud, or you're a startup, all enterprises face similar hosting challenges when acquiring and maintaining technology. In a business climate that's increasingly conducted in the virtual world, finding reliable, secure hosting is a big one.
Hosting Challenges for Enterprises: 
Cloud Services
Companies aren't just turning to the cloud for storage anymore. According to surveys, 86 percent of enterprises will turn to outside companies for their computing requirements within the next three years. 
Cloud computing can be broken down into three main categories:
Software-as-a-Service (SaaS) – With this model, the software is delivered, owned, managed by a third-party provider from a remote location. They include CRMs, accounting software, and analytics. Using Saas providers means no more evaluating, purchasing, and maintaining many of the apps and software that power your business functions.
Infrastructure-as-as-Service (IaaS) – When you choose IaaS, your resources, storage, and networking capabilities are provided to you by an outside party on-demand.
Platform-as-a-Service (PaaS) – Choosing PaaS is where you contract your middleware services from a third-party provider. This includes platforms, integration, process management, and databases.
The Forecast for Cloud Services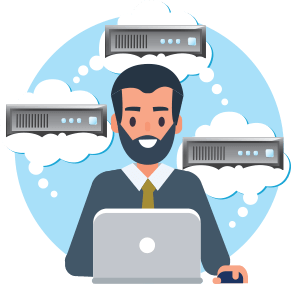 Contracting such services makes it easier for employees to work outside of a traditional office environment, and it definitely saves money and improves efficiency. But, transitioning to the cloud to any degree also poses some security risks. In fact, of the 19 percent of the companies surveyed that have no plans to implement some sort of BYOD policy at their office, security was cited as the main reason.
While it's true that third-party, cloud-based services do present some challenges and risk, how they're rolled out and applied can make a huge difference.
Meeting Common Cloud Hosting Challenges
Internet safety isn't just for children. When you include working hours, adults spend the majority of their lives online. With digital marketing being linked more often to social media platforms, many of the problems faced by students online are also affecting workers and business leaders. Failure to recognize and address the problems of data integrity, network security, and reputation management by instituting online safeguards to protect your business could lead to business failure.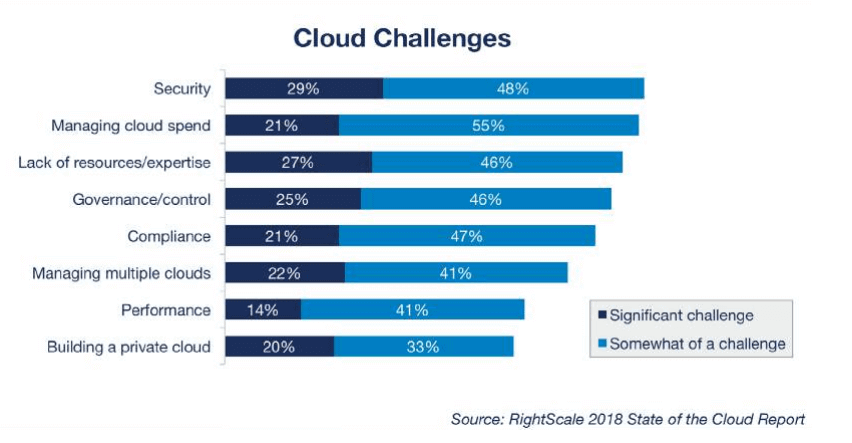 Image Source: RightScale 2018 State of the Cloud Report on suse.com
That's where solid hosting enters the picture.
Your domain is often the first contact customers have with your company, which makes it important to trademark your domain to create brand awareness and protect your brand from cybersquatters or hackers. However, a large number of SMBs don't have the budget or in-house tech expertise to protect their interests effectively. Even larger companies run into issues when apathy or denial enters the picture.
That's why so many rely on their hosting service to take up the slack. This doesn't come without a cost. The goal is to reconcile cost versus effectiveness and find the right balance. Ask yourself, "How much outside support does your particular enterprise need, and how much should you have to pay to get it?"
Incorporating cloud services is a major hurdle facing enterprises as they grow and mature in the digital age. Here are a few of the top hosting challenges that are particular to enterprises.
Migration isn't so much an issue for startups or as far as eCommerce is concerned. It is, however, a challenge for companies that are transitioning to cloud-based applications and services. According to statistics, 95 percent of existing companies are transitioning to some form of cloud computing service. Many of them are finding that it is costing more than anticipated in terms of time and budget.
The main hosting challenges encountered during migration relate to:
Troubleshooting

Security during transition

Speed of data transfer

Outside migration agents

Complex cutover

Downtime during transition
Theses can be dealt with by performing a comprehensive assessment before undertaking digital migration and working with an experienced agent to help plan and implement your transition.
Security problems are compounded when you aren't able to see where your data is located or feel you have complete control over what happens to your information. Letting go of control, which we'll cover in more detail further on, requires an element of trust. The cost of data breaches is approximately $5.40 per record. When the typical breach potentially affects thousands, even millions, of employee or customer records, you can see how that cost could break a company. In the event of a breach, it is important to learn from the breach to prevent recurrence by implementing the right hosting tools.
Most reputable hosting solutions offer additional security features like SSL certificates, DNS leak protection to avoid DNS hijacking, and monitoring services as part of their standard services. However, you should also find out how they can help you manage other security-related issues like privacy and compliance.
Concerns for data integrity and privacy protection have led to a crop of industry standards and government regulations that are meant to address the issues and protect consumer rights. These are evolving and somewhat confusing for business owners, but lack of awareness and non-compliance can be costly.
Some cloud hosting and storage providers state that they provide full compliance with general regulatory standards, but what about industry-specific compliance with regulations like the Health Insurance Portability and Accountability Act of 1996 (HIPPA) if you're a healthcare provider or the Sarbanes-Oxley Act of 2002 (SOX) and Payment Card Industry Data Security Standard (PCI DSS) for retailers?
You should find out from your hosting provider how they deal with compliance issues, where your data is stored, and your ability to access or recover that information under a range of circumstances. Then, you need to keep your staff, vendors, and customers up to date on these matters.
Transitioning from on-site management and governance to off-site or third-party services is a hosting challenge in and of itself. That means your IT people or their non-tech equivalent should also prepare for the risks and uncertainties inherent in an environment where they don't have 100 percent control over the procedures and outcomes. This includes making decisions that relate to:
Setting policies and procedures for how assets are acquired and used

Ensuring that any assets acquired are in line with company goals and strategies

Ensuring that once obtained, assets are properly managed and maintained
Fortunately, many enterprise hosting services now offer support for governance and guidelines for best practices.
As more organizations place heavier workloads on cloud computing platforms, they run into unforeseen problems. One of these is having the expertise and resources to keep up with rapid technological advancement. If you're a small to medium enterprise, these problems are compounded by a lack of in-house IT to guide and oversee resource/asset management.
Fortunately, many of these issues can be solved without overstretching budgets through automation. The right tools provide monitoring and analysis that can identify information bottlenecks and alter processing and usage patterns to alleviate the problem. You can also automate backups, updates, and other solutions that contain costs and reduce implementation problems.
One of the most attractive features of cloud computing is the cost-and-time savings according to the 2018 RightScale State of the Cloud report. You eliminate the problem of acquiring, evaluating, and upkeep when you outsource services that can be better handled by a trustworthy third-party, as well as managing the issues of scale due to on-demand pricing.
You can further contain costs by choosing a company that offers the highest possible percentage of guaranteed uptime, data restoration and backup services, and that performs routine analysis and reporting to identify possible problems before they manifest.
Final Thoughts: Hosting Challenges for Enterprises
One of the worst things a business owner can do is to implement a tech solution without a clear understanding of the business's needs and possible challenges. Our goal is to make your decisions a little less complicated by providing a comprehensive overview of issues you may face while providing you with best practice solutions.
Tell us a little about your experiences with enterprise hosting.

Dan Fries
Dan Fries is a freelance writer and full stack Rust developer. He looks for convergence in technology trends, with specific interests in localism and micromobility (🛴💨). Dan enjoys snowboarding and is based in Hong Kong with his pet beagle, Teddy.

Your cornerstone to an effective domain name and brand management strategy.