We are well past the days of viewing an online business strategy as a secondary element. Instead, today's brands understand that establishing an online presence is an essential element of any business plan, and should even be included in the planning and budgeting stage. When a company or individual discovers that the domain name corresponding to their brand name, product, or trademark is registered by someone else, there are a few options as far as recovering the domain name infringing on your trademark.
Buy the domain name infringing on your trademark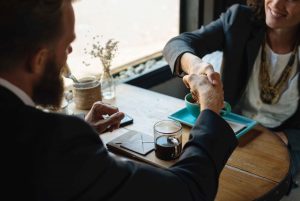 The simple solution is to buy back the domain name. Everything has a price and a domain owner will most likely be willing to let go of a name if the price is right. Depending on how much you are willing to spend this could be the easiest way to get your domain.
However, if your brand is notable a seller may be less willing to sell or attempt to inflate the price. In order to avoid this, it's best to keep your identity anonymous. Our domain concierge service can help you through the entire process from contacting the seller and negotiating the deal on your behalf.
Cease and desist
You can send a cease and desist letter in the hopes that the party will cease use of the domain name infringing on your trademark. A cease and desist letter alone may be enough to intimidate the current owner into relinquishing the name to you.
Domain name dispute resolutions
Policies have changed over the years in response to the difficulties in presenting a strong case under traditional trademark law. Today's Uniform Domain-Name Dispute-Resolution Policy (UDRP) and Uniform Rapid Suspension System (URS) policies help individuals and companies take over domain names infringing on their trademark.
UDRP
Brands who believe a domain name infringing on their trademark was registered in bad faith can file a complaint called a UDRP. All domain registrars follow UDRP policies which state that upon ruling via agreement, court action, or arbitration, a domain name found to be abusive will be canceled, suspended or transferred to the UDRP complainant.
URS
URS is a complement to UDRP in that it offers a lower-cost, faster path to resolution for trademark holders experiencing the most clear-cut cases of infringement.
Take it to court
If all else fails you can escalate the situation and sue to get the domain name. The court process is not ideal because it is a very slow, time consuming and expensive process. Companies that pursue a domain name via court action must present legal arguments as to why a domain name registered to someone else should rightfully be in their possession instead. Domain names are registered on a first-come-first-served basis, so the company needs to justify why although they were not fast enough to register the domain it should be canceled or transferred to them. In order to do so, the company must prove that the domain name was registered in bad faith or that the use of the domain name is confusingly similar to their brand, name, or valid trademarks.
Someone who has registered a domain name infringing on your trademark is a threat to your business. There are many reasons you should have control over a domain name that corresponds to your name, product or trademark, including having a cohesive and accessible online presence and ensuring that another brand isn't tarnishing or diluting your brand name and image.
All of the hard work that has gone into establishing your brand shouldn't be at the discretion of another. If you need advice on what to do if someone registers a domain name infringing on your trademark contact our sales team today.