.ART domain presents "Digital Twin"
Just like artwork, domain names are assets, critically important to the very DNA of your online brand identity. But imagine your domain name was even more than a place for people to find and interact with your artwork. With .ART domain it can be. The creatives behind .ART are bridging the online and offline worlds with a new feature called Digital Twin.
What is .ART domain Digital Twin?
Digital Twin is a tool that enables the digitization, protection, monitoring, and monetization of art objects online using the Domain Name System (DNS). The WHOIS database catalogs critical DNS information pertaining to domain names, including important dates, the registrar, domain status, and even in some cases, the domain owner's name and contact information. This helps with the policing of the internet and gives users visibility to know who is behind the domain name. For domain investors it is a handy resource that connects them with potential clients.
For those in the art community, .ART Domain Digital Twin does something similar. Just as easily as you can discover ownership of domain names in the WHOIS, each artwork is officially registered and contains all the pertinent information about its owner with special description fields.
Instead of identifying an organization, business or person, .ART Domain Digital Twin ties the domain name uniquely to an artwork or art object. Just like offline certificates of authenticity, the Digital Twin contains the author's name, title, medium, dimensions, chain of custody and other related data. See an example below.
[whois.nic.art]
Domain Name: YUGEN.ART
Updated Date: 2018-09-03T11:57:03.0Z
Creation Date: 2018-08-31T15:06:43.0Z
Art Record – Type of Object: a moving-image
Art Record – Materials & Techniques: digitally processed film shot on camera
Art Record – Measurements: 1920×1080 px
Art Record – Title: Yugen
Art Record – Date or Period: 2018
Art Record – Maker: Martha Fiennes
Yugen.art

was the first art object to get a Digital Twin. The website features information about the art exhibition which showcases across the globe. Fiennes' work is an experience of filmmaking and visual effects technology that creates a randomized and AI powered visual display.
Fiennes compares the experience to that of encountering a painting or still work of art –
"there is no fixed narrative or prescribed length and the viewer chooses how long they wish to spend with the work. If the work is encountered again, there is every chance they will see sequences they did not experience previously."
The benefits of getting your .ART Domain Digital Twin
Every artist dreams their creation will withstand the test of time – both physically and in cultural relevance. It doesn't always happen. We've seen cases where priceless monuments are stolen or damaged from natural and man-made disasters. For example, when the Notre Dame Cathedral burned down in Paris earlier this year and 
irreplaceable artwork was lost
.
In times like these we feel the crucial need to create a global foundation of digitally preserved artwork. Afterall, art is the most precious and telling thing we have as humanity. Not to mention, when you seek information about art objects on the Internet it is scattered, decentralized, and difficult to find. Museums, artists, private collectors, cultural heritage sites, and every artistic entity in between, should set the prescient of digitalizing and preserving the artwork of our world with a .ART Domain Digital Twin.
Similar to the question of,
"What makes a domain name premium?"
, many people wonder what gives art its value.
Don't Ask Kris Jenner, who was tricked by Khloe Kardashian and Scott Disick into thinking a paid actor was a famous artist named Art Vandelay.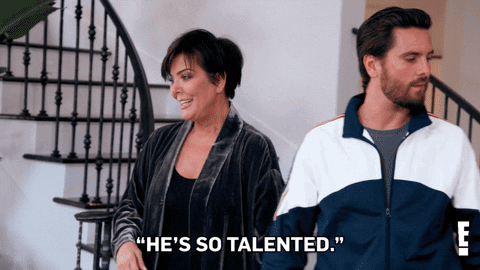 According to the innovation adoption lifecycle, there are innovators (the artists) who invent, early adopters (the influencers, art critics, etc.) who tell us (majority and laggards) what art is good and what is not. When this happens, people with money and influence, the Kris Jenners of the world, the art collectors, and museums, fight to own these exclusive and rare pieces, thus creating value.
The information surrounding an art object's chain of ownership and its movements around the globe is what makes it a true asset. Digital Twin can establish and store this information, which is embedded in the online registration process of every domain name. The more profound track record of provenance there is, the more valuable an art object.
Authenticate Your Artwork Online
When you think about the artwork you enjoy in everyday life do you consider street art? Artists like Banksy have made a name for themselves, but it wasn't until the past few years that street art has become critically acclaimed and even commemorated in art galleries like they are today. The thing about street art is that it can be here today and gone tomorrow. So why not turn it into conceptual art that's
legal
with Digital Twin?
Digital Twin is the only way to immortalize forms of art that are temporary in their nature, such as street performances, improv shows, pop-up exhibitions, a female comedian crashing the Chanel show… Okay maybe we won't count that one just yet. But every artwork needs its Digital Twin no matter how obscure it is.
There are so many different mediums of artwork today. Many designers have even transitioned to designing entirely digitally. With the increased use of technology in design, there are files, documents, photos, and other digital assets that need to be stored. You could keep it with third party services like Google and Facebook, but once you do, you give up your exclusive ownership and lose your privacy.
We have previously discussed why social media can't replace domain names. Having a domain and your own website allows you to fully own your personal digital property. The .ART Domain Digital Twin allows you to store, scan, print, and stream a digital copy of your art object, and keep your data safely behind a trusted web address.
.ART domain
 Registry is releasing over 500 valuable premium names that have been on Reserve status. You can get your hands on these premium .ART domain names at
101domain.com
starting on October 30th.
In addition, .ART domain was $13.99 but is now on sale for $6.99 for a limited time!