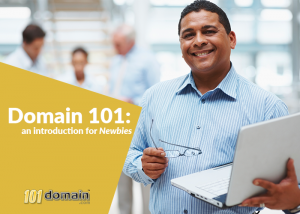 Okay so you ordered your perfect domain name at 101domain.com, now what? The domain name space can be complicated if you dive in head first without your floaties. Here are some tips from our team to help you navigate domain name services like a boss.
"There's such a thing as alternative domains"
Forget Queen Bey for a second because everything "to the left to the left" is not as important as whatever is to the right of the dot. Some registries created domain extensions that appear to be global domains when in reality they are new generic domain names in disguise. For example: .CN.COM could be mistaken for a Chinese country domain extension until we remember there is a hierarchy and we care about what's to the far right of the dot, then we see it for what it really is — a new generic domain name.
These are still great domain extensions many people love — just not the person who mistakenly took it for a internationalized domain name and later had a palm-to-face moment.
Don't be that person.
"No you're domain name is not your website"
First noob mistake a lot of people make. You register a domain name, you get a notification that it's active, you type in the web address and… Disappointment. Where is my website? What is this 101domain landing page? What is a landing page?
Welcome to the wonderful world of domain names. First thing's first, you'll need one of the following domain name services, either a website builder or a hosting plan. Once you get this in place you'll be up and running in no time, but until then your domain name is simply just an identity.
"You don't own your domain name"
Technically you will never own your domain name. No one will. The closest you can get is 10 years of renewals. Think of the domain industry as real estate: Internet Corporation for Assigned Names and Numbers (ICANN) is the landowner, 101domain is your realtor, and you are leasing your domain.
"Creepers gonna creep"
When your mama said nothing on the internet is private she was right. WHOIS is a database of publicly accessible records that ICANN requires every domain name to have, meaning anyone at any time can run a quick search to see who owns a website.
Domain owners can stop internet creepers with a domain name service called WHOIS Privacy Protection, which protects information by replacing it with our information, but don't worry your domain still remains entirely yours. So unwanted emails from spammers and advertisers won't phase you.
"Payment doesn't guarantee your domain."
This is a pretty common misunderstanding that can occur and we totally understand why. If you purchase something and the payment is accepted, it should be yours. Right? Well in this case, wrong.
There is a lot that goes on behind the scenes when checking the availability of a domain name. Availability can often be checked when the DNS servers are down, which would make the domain appear unavailable or it could even be recently expired. If it's a manual registration then somebody could have applied for the domain before you and the registry just hasn't activated it yet.
Try to be patient or keep clicking that refresh (whatever floats your boat) and once you see the domain actually appear in your account, you'll know it's real.
Let the domain name games begin – dive in.