We want to start this blog post out with a very confident statement: After implementing the Secure Web Accelerator powered by Cloudflare®, you will not only understand the value of a Content Delivery Network (CDN) but will also never want to run a website without it ever again.
Believe it or not, Cloudflare never planned to become the product it is today. It evolved from Project Honey Pot, a project launched at the MIT Spam Conference, which focused primarily on security. In the process of fixing latency issues with code changes, they discovered that they made websites load faster at the same time.
Since then, Cloudflare has come a long way.
Cloudflare is a content delivery network that provides
DDoS (Distributed Denial of Service) protection
, as well as enhanced site security. This boost of site security and performance makes websites load faster and resist abusive bots and crawlers. Cloudflare has over 150 data centers across 90+ countries around the globe, which means no matter where in the world your visitors are located at, they can still access your content at local speeds.
Now imagine the following: Your web host is located in Canada, while most of your customers are from Germany.
The further data has to travel across multiple networks, the longer loading times become. Cloudflare is able to deliver such incredible results because it employs a powerful edge network that delivers content as close to the audience as possible, so they get the information as fast as possible.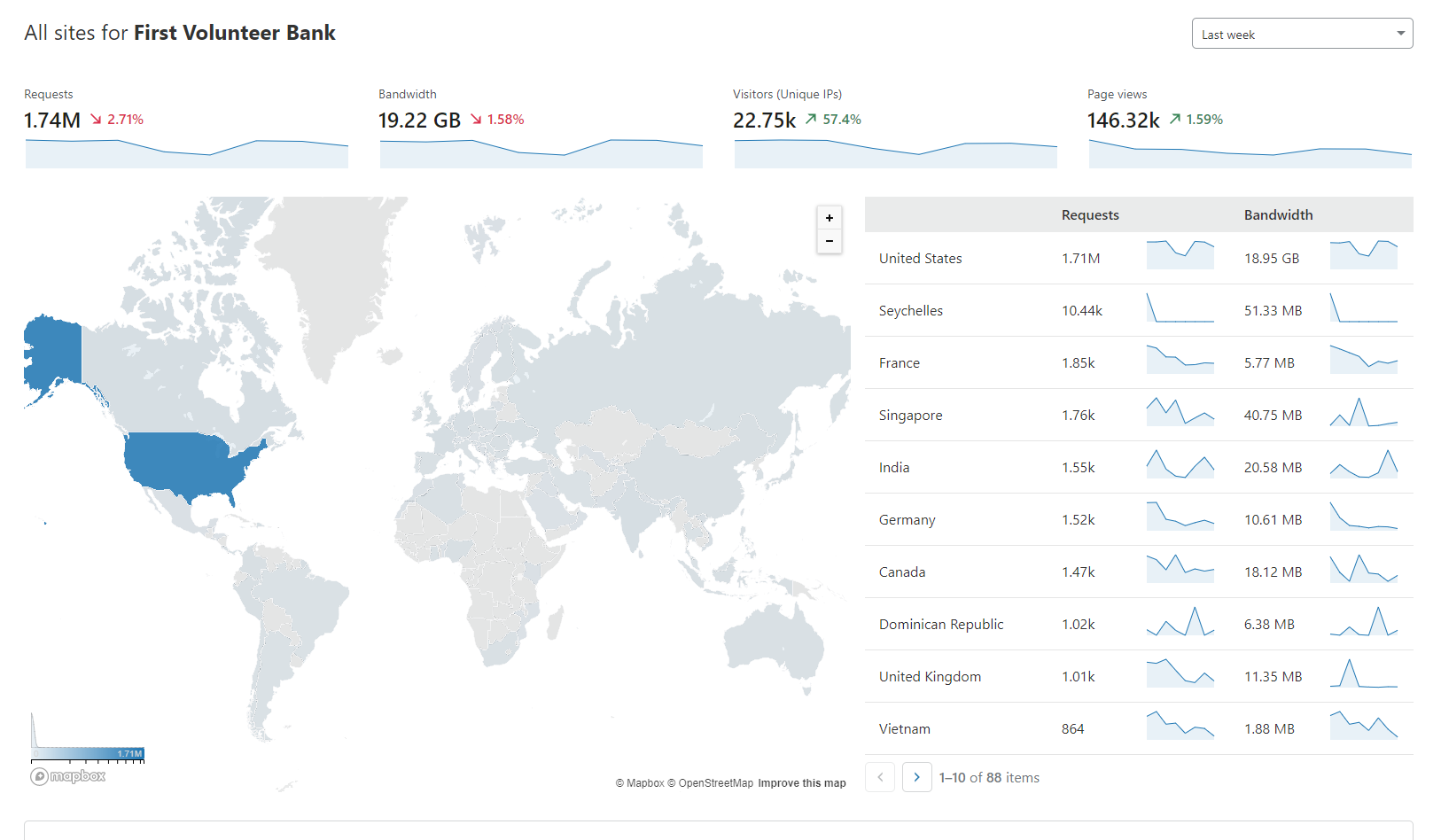 Poorly performing websites can frustrate users and can easily drive them away. To showcase the importance of Cloudflare, we present you with a real-life example and with it a visual comparison of website loading times. Website speed tests aim to simulate real-world conditions to provide data on how well your website performs.
Tip for testing: Make sure you check your performance statistics, including your page loading time, before and after setting up Cloudflare to see the difference.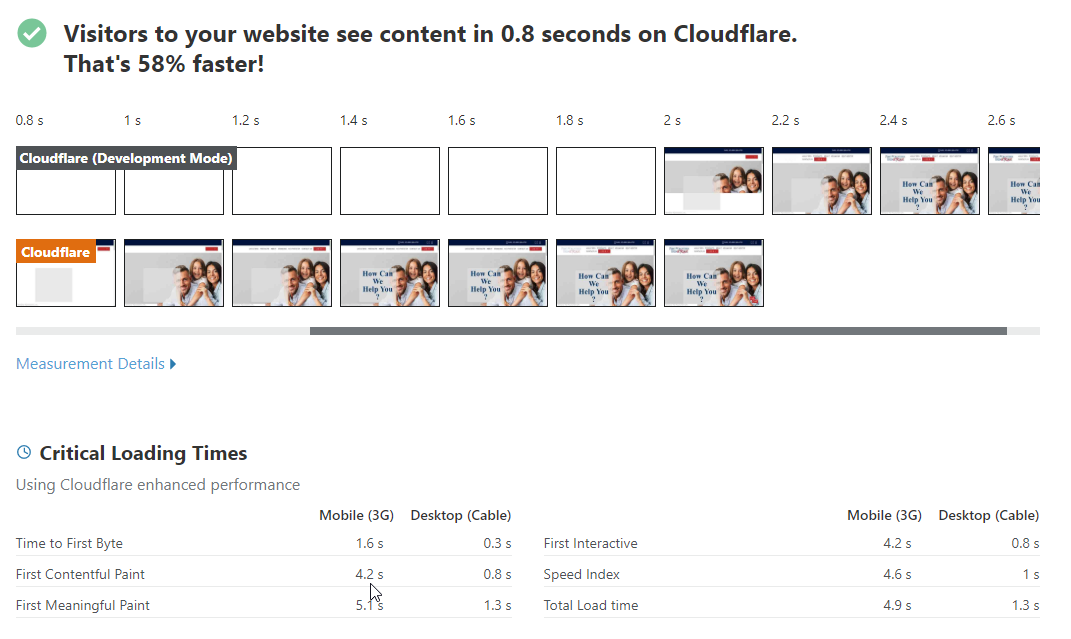 Visitors can now see content in 0.8 seconds, which is an increase of 58%. This is the time it takes for a web browser to finish downloading and displaying the webpage completely. You can achieve similar results for your website in less than 10 minutes, that's how easy it is to setup Cloudflare. Shaving only a few seconds off our page loading time will improve user experience significantly and can potentially lead to better conversion rates.
More benefits of the Secure Web Accelerator
Cloudflare isn't the only CDN on the market, but it has almost 70% market share. A good CDN will cache your content on a server that's as close as possible to your visitors, reducing latency and improving overall page load times. Cloudflare prides itself with the largest global network. Even the basic version of the Secure Web
Accelerator
does an amazing job in securing your website from malware and does make it load faster at the same time.
Cloudflare offers a free site speed test tool for everyone to use. On the other hand, there are many more benefits of using the service and upgrading your plan, especially when you have customers relying on you. Secure Web Accelerator Plus and Professional additionally come with access to the Cloudflare's Dashboard, which gives you an insight into how much faster your site loads with analytics that show your overall page improvement. Tests can be run with each performance feature turned on and off.

The free site speed tool provides you with site performance statistics and filmstrips of the before and after loading times (as pictured above) of your website. This way, you as the customer, can easily compare and understand how differently a website user will experience the visit.
In addition to that, the Plus and Professional plans also offer image resizing which can also enhance your page. The Secure Web Accelerator stops brute-force attacks and hacking attempts, while Plus and Professional also include protection against DDoS attacks. By analyzing the traffic inflow and filtering it for spammers, attacks, and excessive bot crawling, it makes websites more resistant and secure.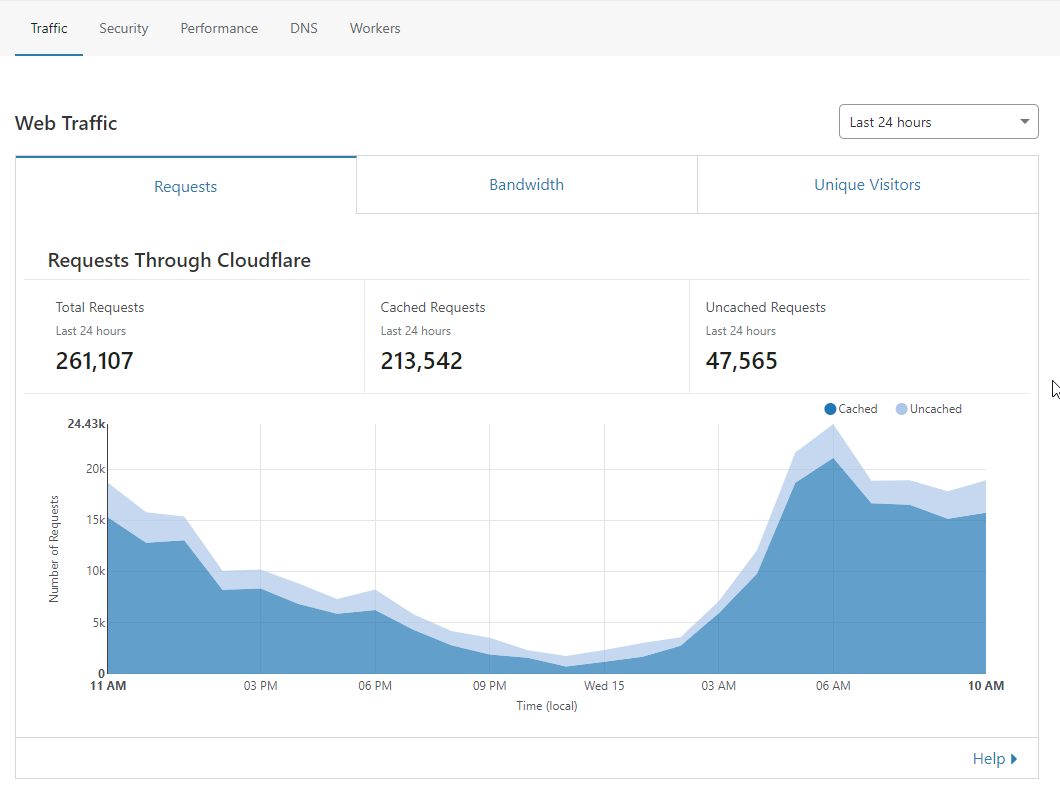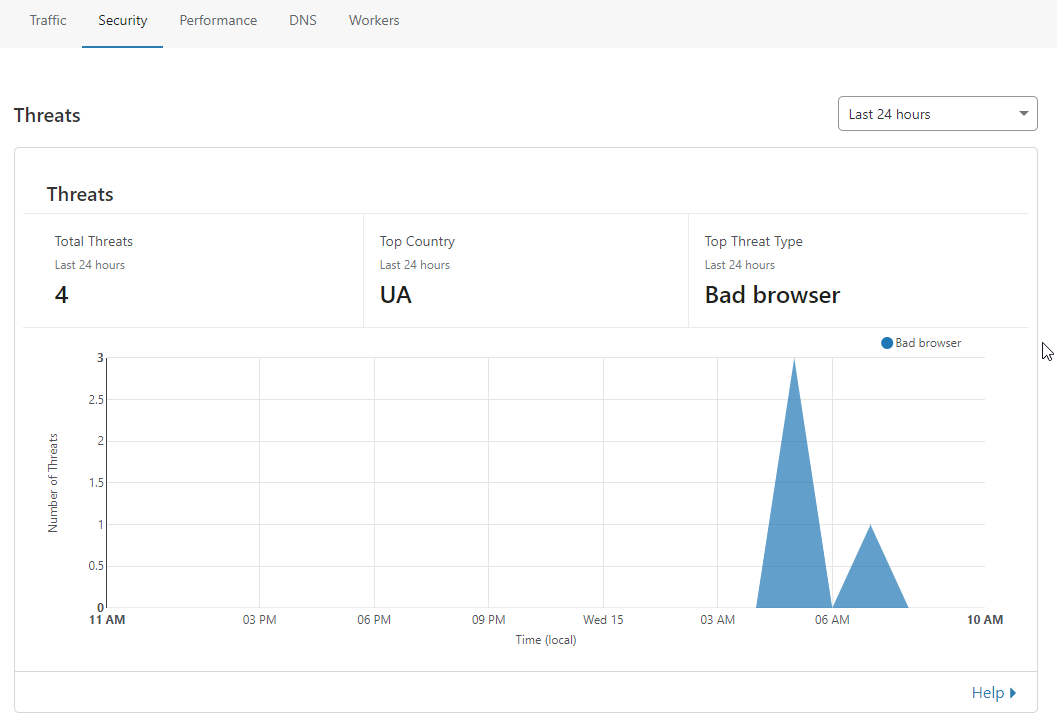 There's a reason Cloudflare is the industry leader – Cloudflare can help you optimize the performance, security, and reliability of your website, and most importantly, improve the experience for your users. Don't just take it from us. Conduct these tests for yourself and let us know what you think!
101domain is committed to providing the highest level of service to our customers and bettering the DNS for all by making it a more trusted space. If you witness DNS or Website Content Abuse, please report it to our Brand Enforcement Team here. If your inquiry is urgent, you may contact us by telephone or Live Chat.

Your cornerstone to an effective domain name and brand management strategy.