Billing departments everywhere get ready to rejoice! A highly requested feature has finally become a reality. 101domain customers can now open a PDF invoice straight from their email. Continue reading to find out how we made this long-awaited feature come to life and where you can see it in action—right in your inbox!
What inspired the new PDF Invoice feature?
We are always looking for ways to improve the user experience for our customers. One of the most common feature requests we have received from customers over the years is the functionality to download invoice PDFs without having to log in to their 101domain account. Although attaching a PDF via email is a common practice, our team had a few reservations regarding the security of our customers.
Our development team created this new process with your security at the forefront. Instead of attaching the PDF invoice to the email we have it available via a link you can click to download. You can view the PDF for up to 90 days before it expires.
Whenever you make a purchase or renewal at 101domain.com you are sent an email with the subject line, "101domain.com: Your payment has been accepted". Previously, you would have to navigate to the billing section in your account to view your invoice history. Now, towards the bottom of the email, there is a place to click to download the PDF of your invoice as you can see in the image below. The PDF invoice will open in a new window where you can download and save the file.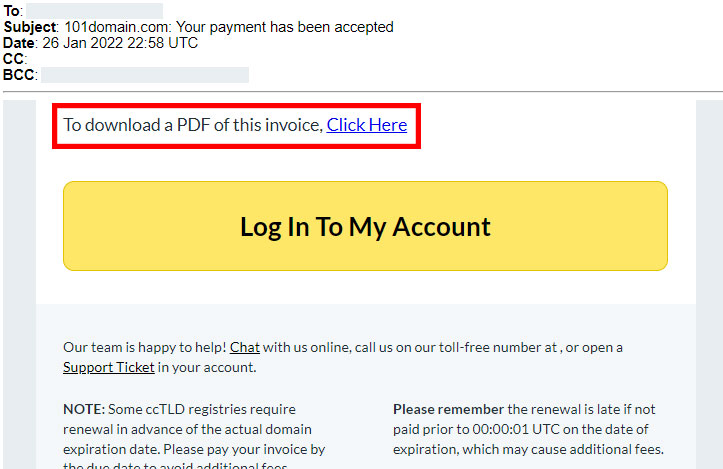 We hope you enjoy this new feature and streamlined process for your billing department. If you have a feature request or improvement you'd like to see, please send an email to us at [email protected]. We welcome any and all feedback!