In March 2017 Chance The Rapper took to social media to ask his fans to apply for the position as his new intern. In the tweet, he encourages non-traditional resumes, and boy did superfan Negele Hospedales deliver! He built an entire website replicating a tour date flyer with all of his qualifications including a cover letter, writing samples, design and more on the custom domain name chancehirehospey.com.
You can read about Hospey's experience in the article What It's Like Being Chance The Rapper's Intern here.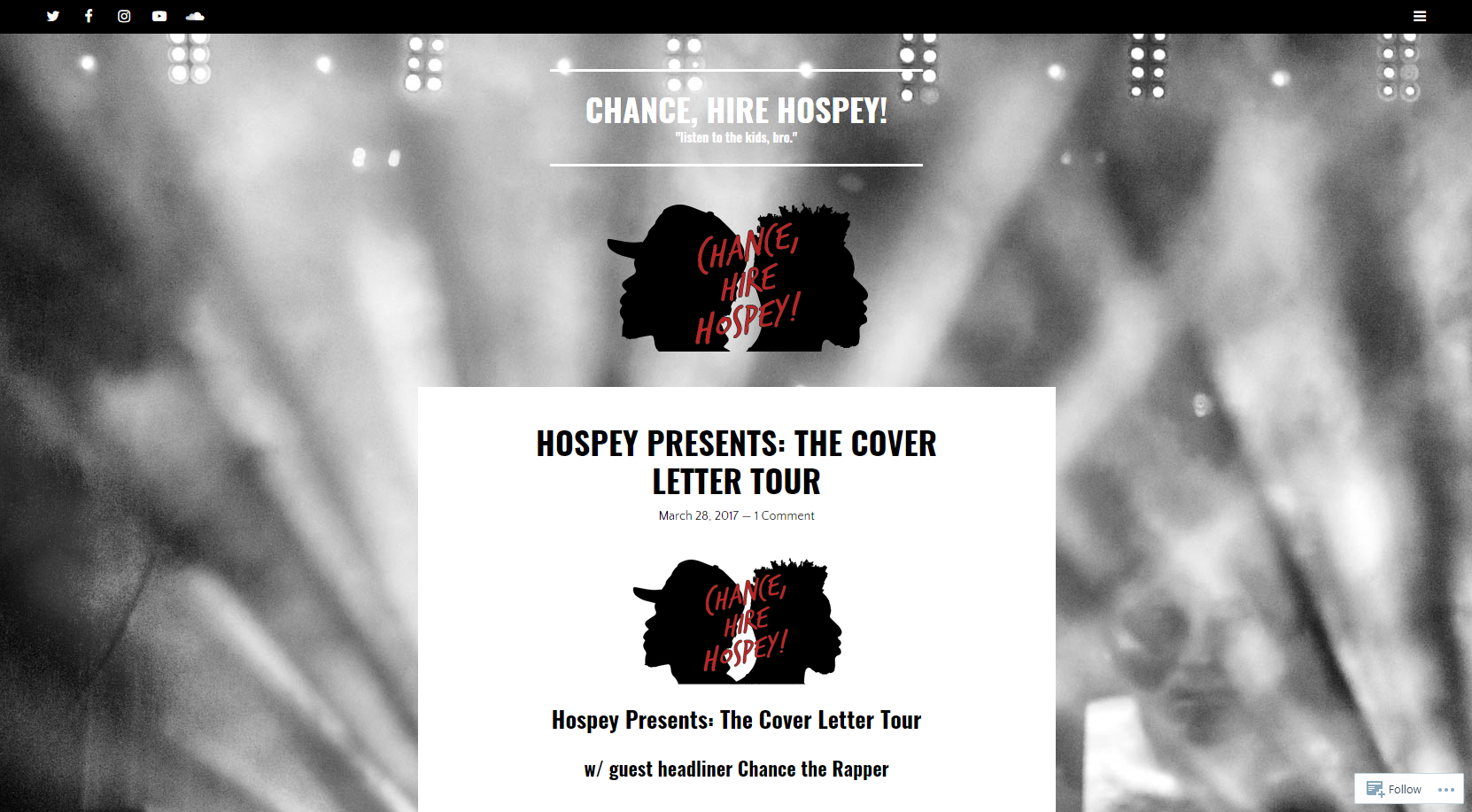 Negele Hospedales could have used a free website service and free domain to build and host his website, you know the long and complicated ones like mywebsite.websitebuilder.com. Instead, he decided to take the extra step and invest in this project and future with a personalized domain name – and it paid off! A website without a custom domain is like an album without a title, an unfinished project. The domain name chancehirehospey gives a clear message that aligns with his goal to land the internship with Chance the Rapper. We love everything about this.
Here are some other unconventional ways to use a website and a custom domain:
A Business Card
How many times have you been at a networking event and either yourself or the person you are talking to forgot their business cards, ran out of them, etc. A business card website can be accessed anytime, anywhere, easily shared, and can communicate more than a 3.5 x 2 inches of space ever could.
Recommended domains: .tel, .biz, .mobi, .pro, .online, .website
A School Project
Nothing says professional like an entire website dedicated to a school project. A sleek and polished website designed by you that looks like it took weeks of work (when it really took hours) is sure to set the bar in your class.
Recommended domains: .college, .mba, .study, .school, .university, .rocks, .xyz
Photo Album
The times have changed. When our kids grow older we won't be flipping through stacks of photo albums to reminisce, we'll be scrolling through photos on a website. Our custom family website.
Recommended domains: .baby, .family, .kid, .kids, .mom, .dad