Domain names operate similar to that of popular subscription services like Netflix and Hulu. Your domain will stay active for as long as your subscription term. Additionally, if your domain is set to auto-renew, you can permanently set it and forget it. This can be a good thing until you realize your portfolio is stagnant, or you realize you might not be getting the best price possible. Considering domain transfers could make managing your digital assets easier and your business more secure.
Transferring your domains and consolidating your digital portfolio could be the change your company needs. Although many of us fear change, it is crucial in order to progress and evolve.
How to avoid these common pitfalls of domain transfers
This list includes things every domain owner should consider as part of their domain portfolio management.
1. Haven't thought of domain transfers
If you have been with a single provider for a long time, you may not have ever even considered transferring your domain names. It is critical to review your domain portfolio annually or even semi-annually, including an approach to domain transfers. If not, your portfolio could get stale. You need to work with the best domain registrar who you can trust. A partner who will keep you informed of new domain launches, help you monitor your brand online, and enforce your rights.
At the very least take some time for self-reflection. Ask yourself if your domain registrar is providing a service that understands the digital landscape today and anticipates where it is heading in the future.
2. If it ain't broke don't (transfer) it
Depending on your organization, the responsibility of domain management commonly falls on Marketing, IT, or if you're a small business owner, yourself. No matter what your role is, nobody wants to be responsible for pulling the trigger on a domain transfer. Domain transfers require trust, and hopefully, the reward is worth the move. There is usually some downtime involved when you transfer a domain name. That being said, you need to make sure the reason for transferring your domains is about more than saving a few dollars.
People are creatures of habit. We don't necessarily like change, and we can even be resistant to it. Subsequently, this can lead us to settle for less than we deserve. Just because something isn't broken, doesn't mean it can't be optimized to work better.    
3. Fear: how to transfer domain name to 101domain
Fear can hold us back from doing a lot of things in life, but transferring your domain names shouldn't be one of them. If you're concerned you don't know the technical process of how to transfer domain names – don't stress. At 101domain, for instance, we have an entire transfer team dedicated to helping you do just that. We handle the move from start to finish, even going into your account and doing all the work for you if you want.
If you're more comfortable doing it yourself, we can walk you through the process. Most people don't know domain transfers can be as simple as getting an authorization code from your current provider. We are here to show you how to transfer domain names to 101domain with minimal to no downtime.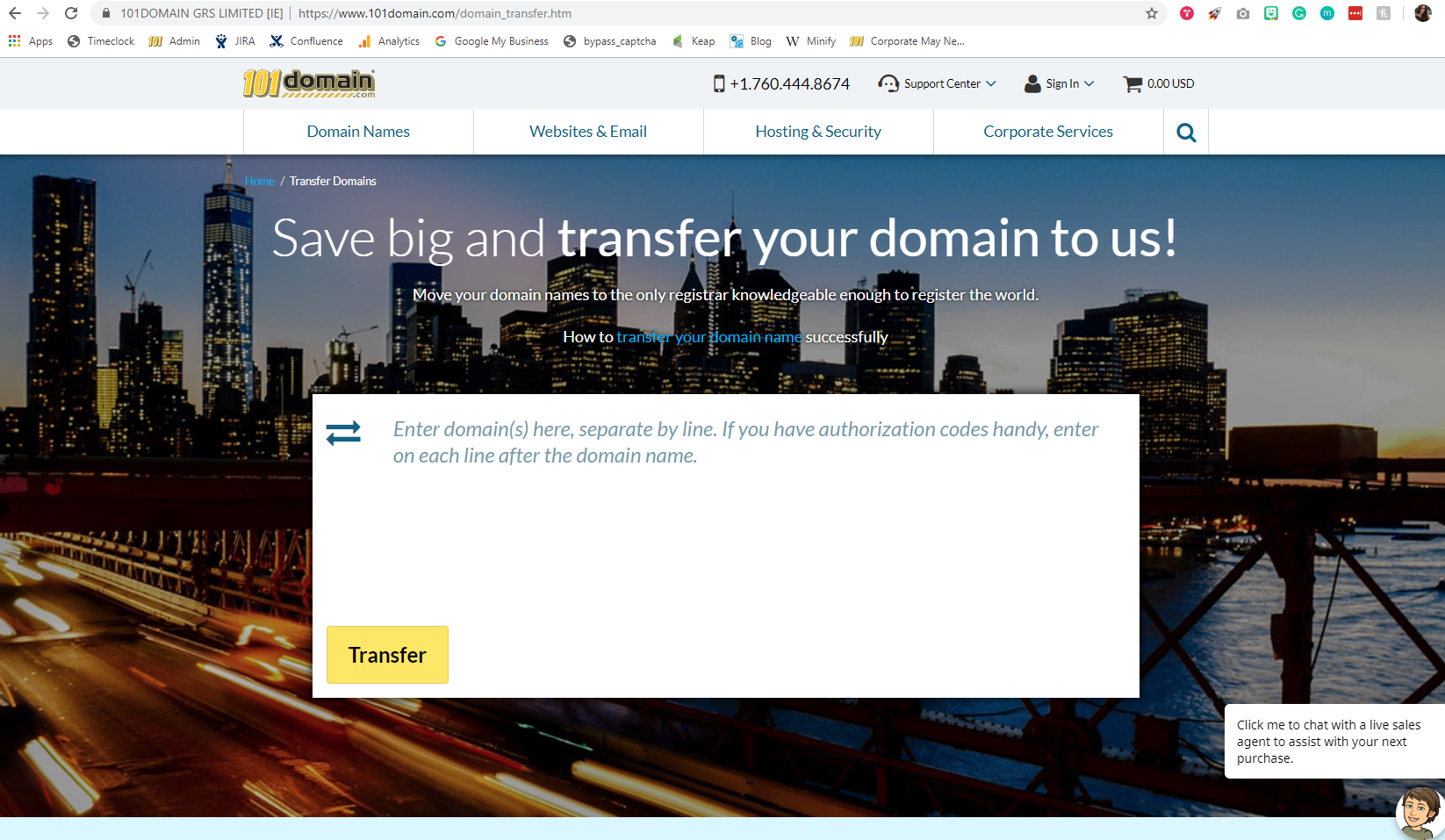 4. Unsure what's out there
You may have settled for your current registrar because they are the biggest name in the game or spend the most on advertising. Likely, you made your decision before you knew what was out there. Some registrars specialize in selling generic TLD's like .COM at a super cheap for the first year. Others offer great support, but lack in their product offering.
101domain has always been known as the leader in international domain registration. We carry the most TLDs anywhere, including new generics like .BANK and .SUCKS, mainstream TLDs like .AI and .IO and even the difficult to obscure country code domains.
Over the years, we have become an established name in web services. Unlike other registrars, we have everything you need from getting started to growing your brand online:
Establish & defend your brand
Hosting

G-Suite

Monitoring services
Domain acquisition

Cloudflare premium DNS

SSL Certificates every. single. one. (we mean it)
5. Don't want to put all of your domains in one basket
Some people are skeptical of having all of their domains with one provider. Spreading your domain portfolio across multiple providers may seem safer in the case that something happens to one of them. However, it is actually less secure. When you do this, you have more passwords to remember, more things to forget and overlook. You may be sleeping on a critical responsibility until something happens, and it becomes a problem. For example, these companies that forgot to renew domains.
6. Price: is cost worth the domain transfer savings?
You might think the price you're getting is fine, but that could be because you haven't looked around. Not all domain registrars are transparent with their pricing. Check out the 101domain price list to see what we offer on new registrations, renewals and domain transfers. You may find out you have been overpaying with your current provider.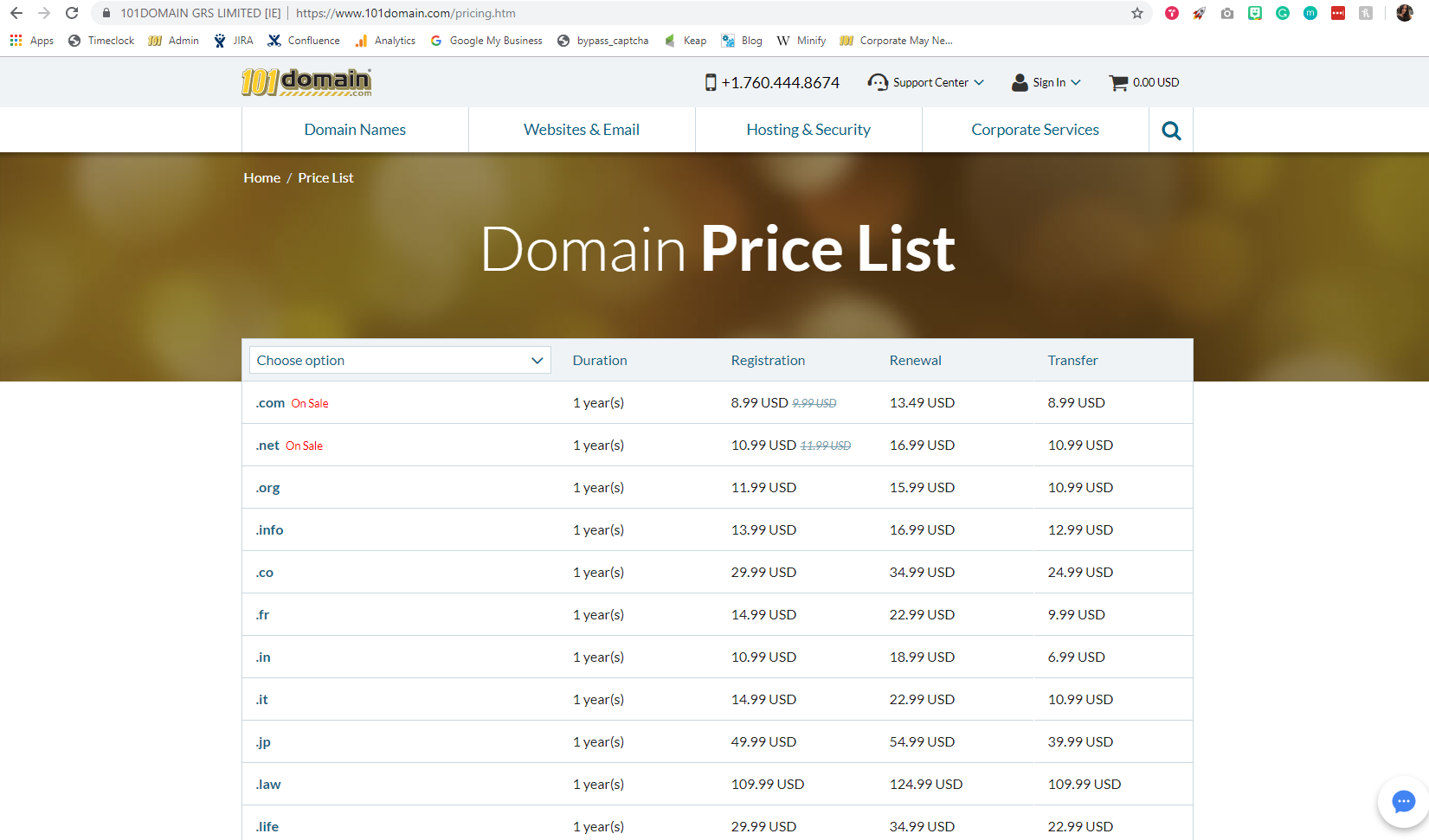 Transferring your domain names shouldn't give you a pit in your stomach. The six tips outlined above will help you avoid the most common pitfalls of domain transfers. Don't miss out on what could be, start your journey with 101domain.com today – a provider you can trust.
Check out our competitive domain transfer in pricing for the most popular domain extensions now: