People love to read about successful people, their morning routines, their thought process, all in the hopes that they can catch on to some of the magic. One factor successful people have in common is being able to turn negatives into positives, setbacks into lessons, and SUCKS into SUCcesses!
Feedback
.SUCKS domain is built for more than airing your grievances online (we have enough of that- thank you Facebook), .SUCKS domain names create a space for your customers to share valuable feedback. A place where your website or business can turn critics into advocates through transparency marketing. Transparency marketing is openly sharing every step in the consumer process with your customers. If your customer service SUCKS and you know it- share how your support team is making it their number one priority to improve in training and efficiency to help serve your customers better in the future.
Customer Engagement 
Branding is no longer about controlling the conversation, instead, it is about collaborating with brand advocates and customers in the community building of your brand. Applications like Yelp, Glassdoor, and TripAdvisor are renowned for the honest and open conversations they facilitate. The shift in POV is now on the consumer and brands who can get on board in encouraging customer engagement will benefit. With .SUCKS domain you can listen and learn from your customer's grievances and turn a sucky situation into a win.
Activism & Advocacy 
The .SUCKS domain works as an application for marketing and promotion for small new businesses and start-ups looking to make a wave in the market. The word sucks doesn't always have to have a negative connotation, it can be empowering, moving, and a force to join together like-minded individuals on a mission (ex. cancer.SUCKS)! .SUCKS domain has something to say. It's loud and resonates with a younger target market for its straightforward and unapologetic behavior. A .SUCKS domain name says you have a better solution or way of doing something and the confidence to turn your idea into a reality.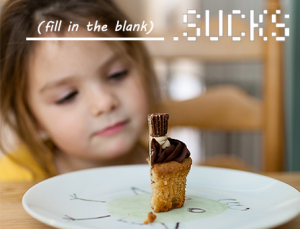 Find your voice with .SUCKS domain names!