Have you ever been stuck on posting a great photo because you couldn't come up with a caption to do it justice? Many people allow the process of registering a domain name for their business hold them back from pursuing their dream.
We get a lot of customers asking us for advice on "what's a good domain extension for ______". Depending on what industry your brand is in or what you are looking to accomplish with your domain name (differentiation, marketing tactics, global expansion, etc.) we can suggest domains that would be a good match. There are essentially three types of domain categories: Classic Generic Domains (.COM, .NET, .ORG, etc. – the ones most of us have heard of), New Generic Domains (these are hobby, location, brand and industry specific domains), and International Domains.
International/Country Code Top Level Domains (ccTLDs) have become popular for more than their original purpose of targeting a specific geographic location and audience, being used more frequently to create memorable domain names, called domain name hacks. There are two types of domain name hacks: those used for the acronym (such as .AI  and .GG) and those to complete words and names. Some mainstream brands currently using this strategy are: Instagr.am, Bit.ly, Bi.ng, Goo.gl, Flic.kr, Redd.it and Youtu.be.
To get your brainstorming session started we composed a list of the top 10 ccTLDs we think also make for really great domain name hacks: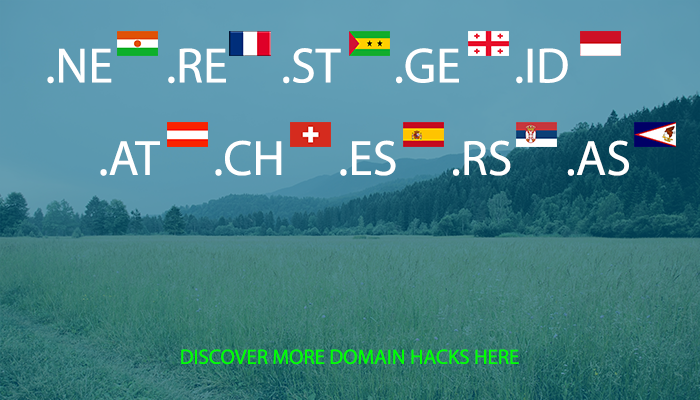 If you're hung up because you can't get the name you want in a saturated extension like .COM and you don't want to register a long, difficult to remember URL, a domain hack is the perfect solution that creates a short, meaningful, and memorable URL while improving your marketing efficiency and engagement.
It's almost 2017, don't let the pressure of registering a domain name slow you down from turning your dream into a reality. Taking the first step towards launching your online venture is the hardest part; we make everything else easy.