Let's be honest, looking sharp is the name of the game in the business world – regardless of whether online or offline. The dress shirt company Mizzen+Main combines both worlds with an innovative product and creative use of a .af domain extension. We will tell you why and how you can use a standard Country Code Top Level Domain (ccTLD) like .af in a fresh and fun way.
"The best damn dress shirt." 
With such a bold claim, we had to take a closer look at the website of Mizzen+Main.
If you aren't yet familiar with the company, the performance menswear startup is making sure you don't have to worry about your appearance. Whether you have to dress up every day of the week for the office or only on special occasions, being able to put together a clean, formal look is important for everybody. When done right, it's hard to go unnoticed in a nice dress shirt but sweat stains or wrinkles can quickly draw unpleasant attention. Compared to most shirts that are still predominantly made of cotton, their products are made from a stretchy performance material using a 85/15 blend of polyester and spandex but still look and feel professional enough for your workplace… and they are comfortable AF. 
American-made, moisture-wicking, wrinkle-free and witty.af
Over the past several years, Mizzen+Main also dressed a lot of professional athletes who represent their clothing brand. J.J. Watt, Jake Arietta, or even Mark Cuban like to be comfortable AF. Starting at $125, Mizzen+Main dress shirts aren't cheap, but they're well worth it, even if you only buy them to use the silly phrase every time you wear it.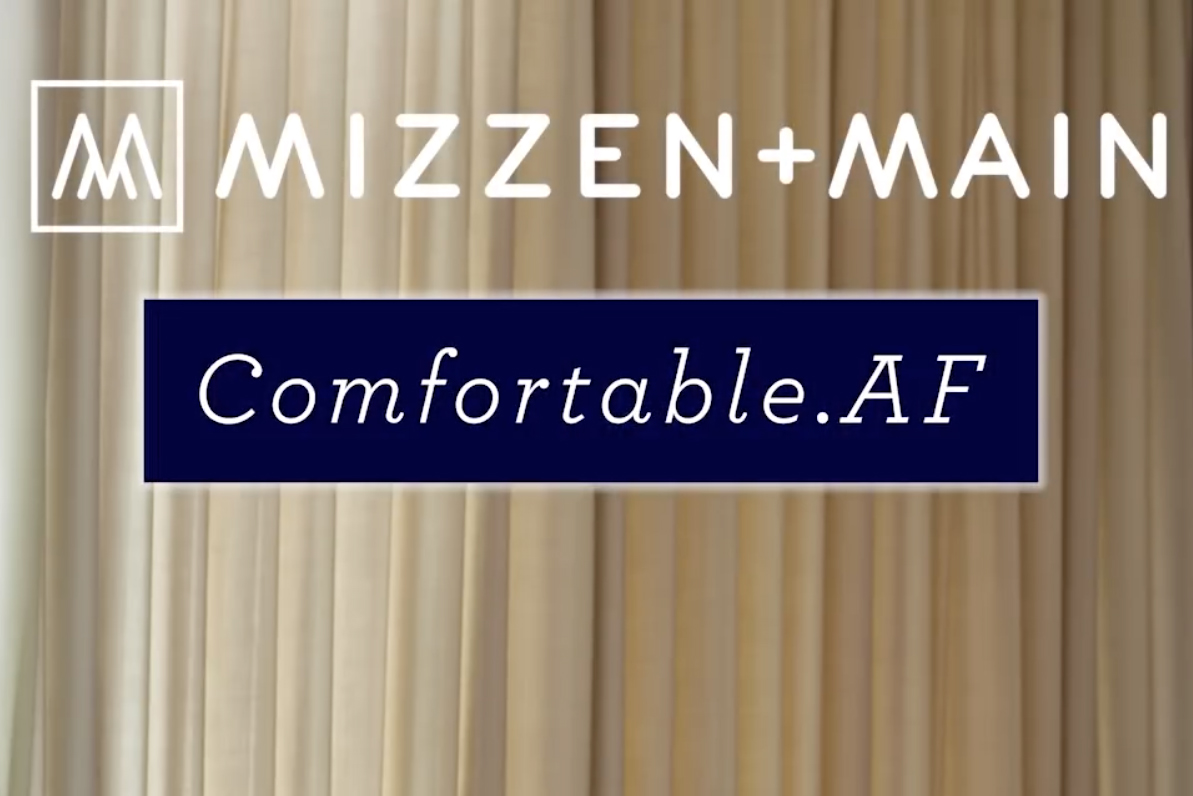 The .AF domain extension actually represents the Country Code Top Level Domain (ccTLD) for Afghanistan, presents a great opportunity for companies wanting to represent their business in Afghanistan and provide localized information. However, like many other Mizzen+Main is feeding off the millennial usage of 'AF' in conversation while promoting the dress shirts as 'comfortable AF'. 
Just like Mizzen+Main shirts are built from a modern smart fabric, the brands marketing team built an eye-catching online performance around the brand. New domain extensions like .shopping, .men, .fashion, .clothing, or .style domain offer a lot of flexibility in choosing a memorable domain name for start-ups and small businesses and allow the exciting possibility to show the websites ' even before the first click.
Web Forwarding: Lighthearted pleasure meets reliability
Mizzen+Main is sending potential customers to the website comfortable.af which redirects to the company's main website mizzenandmain.com opening their "About Us" page. Mizzen+Main uses this strategy to drive additional traffic to their primary website by redirecting potential customers from the "easy to remember" domain name to the official company page. 
Included in the cost of the domain, web forwarding (also known as "domain forwarding" or "URL forwarding") which allows you to point one or more domain names to an existing website. With the introduction of hundreds of new generic domain names and the large number country code top level domains, web forwarding is a great tool to have. Many users also use web forwarding for their .IO domain.
want to know how Your Brand Can Use A Redirect?

Starting at $125, Mizzen+Main dress shirts aren't cheap, but they're well worth it, even if you only buy them to use the phrase comfortable.af every time you wear it. Starting at only $99 you can then get yourself your own .AF domain. What about excited.af? 
Whatever strikes your fancy, your domain could be available within one day, and can have up to 63 characters including letters and numbers. Just be warned, at the moment the .AF domain zone doesn't provide means to hide the information of the domain owner and therefore it will be displayed in WHOIS information.

Need some inspiration? Check out our most popular domain extensions now: