And how you can use them with a custom domain name to drive your sales and your leads.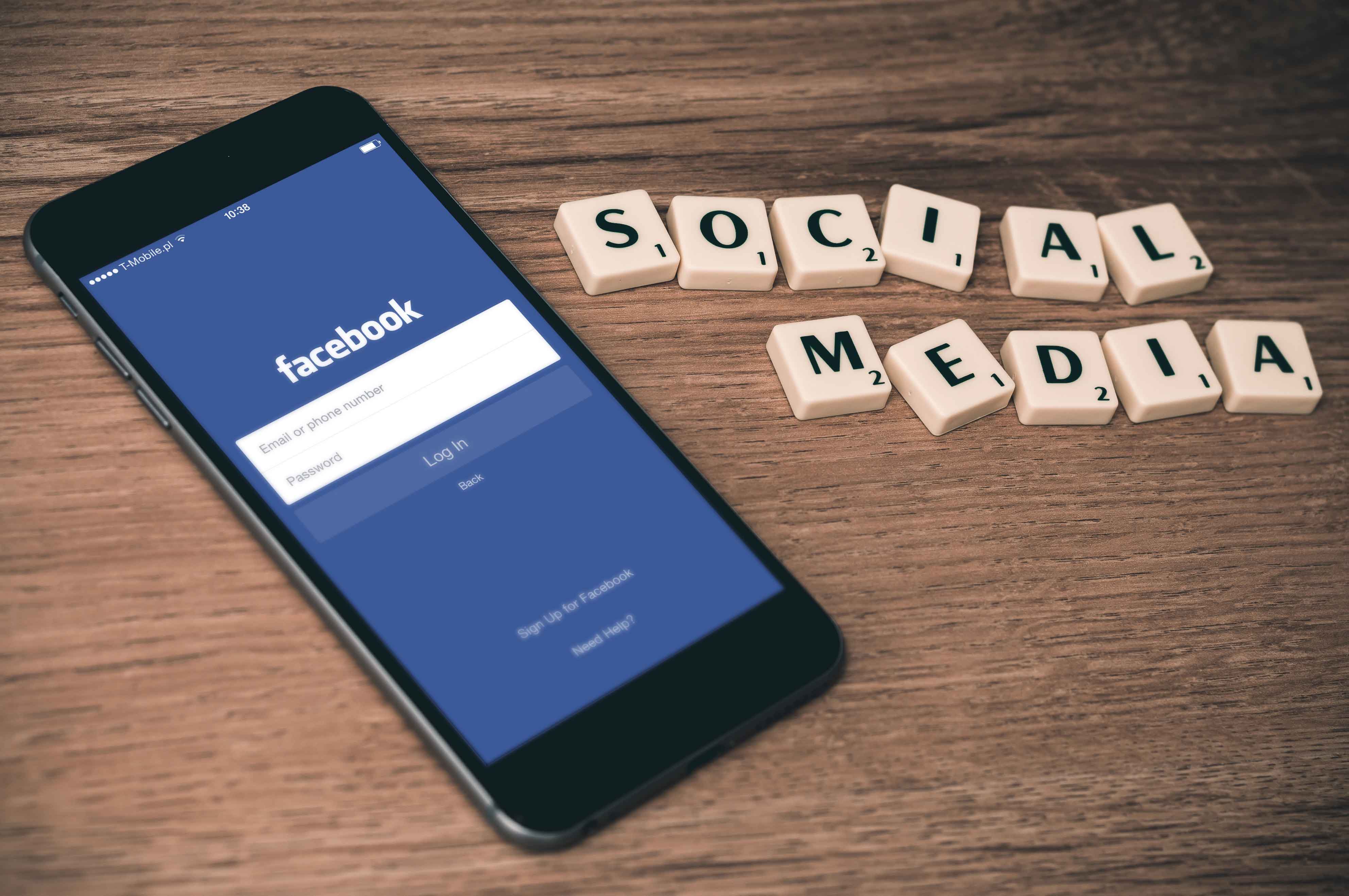 The advent of mobile Internet and social media has transformed the customer purchase process and brands are continuously inventing new and better ways to market to their customers online. Facebook Business pages allow companies to market directly to customers where they are. Unlike many other marketing avenues out there, Facebook Business pages are a cost-effective way to stay in touch with customers, grow an audience and promote your products and services. The platform is super easy to use and takes little to no time to set-up so you can get started right away.
Facebook Ads
Facebook Business makes reaching your goals attainable. No matter if your goal is to diversify your customer base, branch into international markets, encourage more people to download and use your app, or to sell more products there is a simple Facebook Business formula to help you get there.
Step 1: Define your goal.
Step 2: Use Facebook Insights to understand your unique audiences' geographic locations, demographics, and interests.
Step 3: Build Custom Audiences to target with your link, carousel, and video ads. Create unique messaging that inspires a call to action to try your product, sign up for your webinar, download your app, etc.
Step 4: Retarget the same audience as well as a Lookalike Audience you create based on users who have already purchased your product or tried your service.
Step 5: Track conversions and behaviors so you can use specific ads to target specific audiences based on their buyer's journey.
Lead Ads
We are moving into a mobile era where it is imperative for brands to understand the need to design mobile-first processes. We all know the advantages of mobile, for starters it's well… mobile, always at our fingertips, but what about the disadvantages? Doing things on mobile aren't always the easiest especially with the brands who haven't caught up yet. Filling out a form on a mobile device vs a desktop is a notably more difficult task.
Facebook offers a solution with Lead Ads. Lead Ads uses information a customer has already shared with Facebook to pre-populate forms so potential customers can sign up for your offerings and learn more about your brand without having to put in work. With Lead Ads, you can create customized forms, for example, email subscriptions, sign-ups, pre-orders and follow-up with accurate contact information from people who have expressed an interest.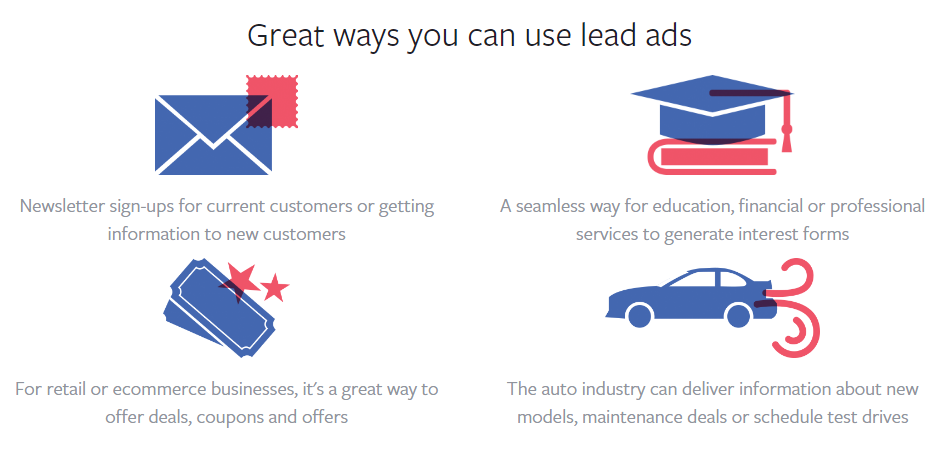 Image Source: Facebook.com
Messenger Settings
Social media is a place many customers turn to for support whether it is to commend your brand, complain about them, or simply ask a question and get a quote. You want to make sure you are active and timely so you can be there for your customers when and where they need you.
Greet people with a message that will appear whenever someone begins a conversation with your brand. This message will appear at the top of the screen before any messages are sent and are a great way to start the conversation off in a friendly tone. Here is an example of the one we use.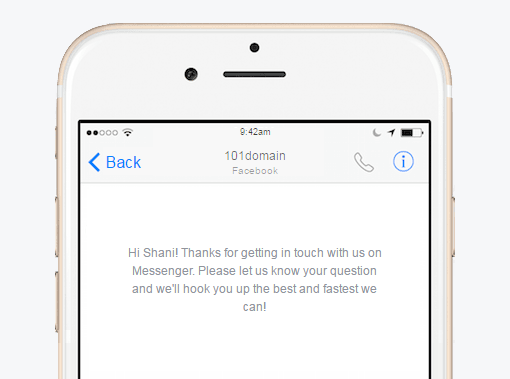 Reply instantly to messages with an auto-reply. If you're a small business or start-up you know how challenging it is to cover all of your channels when it already feels like you're doing everything all at once. Instant replies are a great way to thank customers for reaching out and assure them that you will respond to their message personally.
For example, we like to use this message to point our customers to immediate channels of support and reassure them we will respond within 24-hours. We like to set a specific time frame as to not discourage our customers with vague answers like "we will contact you soon" or "a representative will be with you shortly" and if we are able to reply well before our 24-hour mark, it acts as a pleasant surprise for our customers.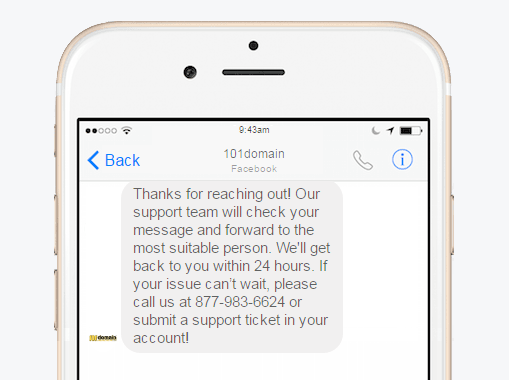 Point people to your Facebook Business Page with a custom domain name
How many hours have you spent crafting the perfect Facebook page for your business? Don't let all of this hard work go to waste. Maybe you remember the long URL to get to your profile online but chances are your customers don't. Point them in your direction with a short and memorable domain name!
All it takes is a few minutes to pick a custom name at 101domain.com and redirect it to your social page. We'll show you how in 3 easy steps.
The first step is to find your name.
Set up an account with 101domain.
Enable HTTP/301 forwarding in your account settings (this is easier than it sounds) and type in the social media website address you want your custom domain name to direct people to, in this case, your Facebook Business page.
That's all it takes! What do you do now? Well, print it on your business cards, feature it on your marketing materials, share it in your email signature and let your website address do the talking. Upgrade your social media presence with a custom domain and see how simple it is for your customers to find your social page and for you to grow your brand and leads!
Here is a list of domains we recommend to direct to your Facebook Business Page: