The blue checkmark is the status symbol of our generation. We have been conditioned to look for the blue check when searching for public figures and brands on social media. Seeing the checkmark next to an account validates it as being legitimate and not just some random user on the Internet impersonating a notable person or brand. Google recently announced that the blue checkmark is coming to Gmail and will display next to senders that use strong email authentication practices to combat phishing and impersonation attacks. Continue reading to learn how you can get a blue checkmark next to your company emails.
What is the origin story of the blue checkmark?
The blue checkmark was introduced to Twitter in 2009 as an Account Verification process to improve the user experience and clear up confusion caused by impersonation accounts. Twitter first awarded blue checkmarks to public officials, public agencies, famous artists, athletes, and other well-known individuals at risk of impersonation, but eventually expanded the verification program to include more people figures. 
The blue check was adopted by other social media platforms, such as Facebook and Instagram, and has become an internationally recognized elite status symbol.
Until recently, it was somewhat of a mystery who could get a blue checkmark. Today, almost every established brand, social media influencer, and reality television star has a blue checkmark next to their name. The blue checks have become a hot-button issue since both Meta and Twitter rolled out the ability for any user to pay to have the verification symbol displayed alongside their profile.
Elon Musk has gotten a lot of flack for his approach at Twitter, which stripped accounts previously verified under the legacy Account Verification program of their blue checkmarks. Now, the only way to get the blue checkmark on Twitter is to be buddies with Elon Musk or pay for a subscription to Twitter Blue. Meta took a similar but more conservative approach, allowing all previous "verified badge" holders to keep their checks. Still, anyone who meets basic criteria, including having a Meta Verified subscription, can essentially pay to have the blue checkmark next to their profile. 
Some critics say that being able/forced to "pay to play" for a blue checkmark makes them uncool now, but we all know the reach of social media and the importance of brand protection when it comes to impersonation attacks. To prove our point, Google is expanding upon Gmail security by introducing a blue checkmark for senders that have adopted Brand Indicators for Messages Identification (BIMI).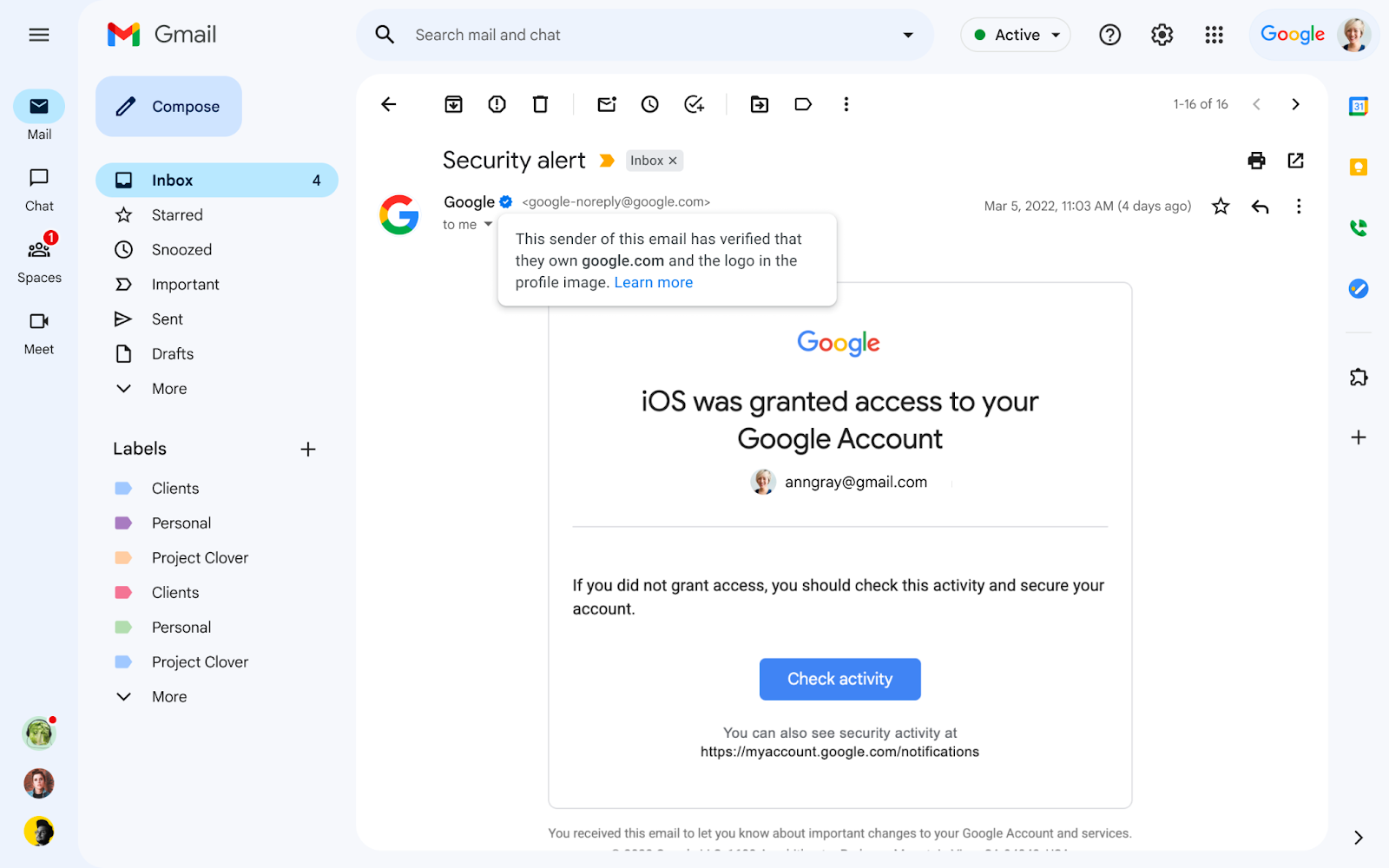 BIMI is an emerging email specification that verifies senders and displays their brand logo next to their emails in supporting email clients. Compared to brands that do not implement BIMI, having your logo displayed next to emails sent from your brand and employees helps your message stand out in crowded inboxes. A visual connection to your brand increases engagement through open and click rates and enhances the user experience by giving your recipients peace of mind knowing emails from you are actually from you.
How can you get BIMI certified?
For your brand's logo to be displayed, your email domain must pass DMARC compliance, ensuring that emails from your organization have not been impersonated. BIMI's DMARC authentication requirement is an opportunity for brands to protect their email domain from abuse while also improving email deliverability. DMARC compliance is the first step to getting BIMI and having your logo and a blue checkmark displayed next to your company emails in Gmail. 101domain provides Managed DMARC Compliance Services to help you through the process  from start to finish. 
Increase your email deliverability and protect your domain against email spoofing and impersonation attacks with OnDMARC & BIMI. Our clients have seen a 20-30% increase in their email deliverability after reaching full DMARC compliance. Find out what improving your email security can do for you.