Some of our favorite features of the New Domains is that they are short, keyword rich, and a fun shakeup to your brand image.  The New Generic Top Level Domains (new gTLDs) market themselves. From looking at your domain name someone will know exactly what your brand offers. You can use it to rebrand your image online or to compliment your existing site address with promotions and microsites. There are more options than ever before so you don't have to settle for a long domain name that isn't your first choice.
They work great in the online world but have you thought about how you can use them offline? Let's say you own a bike shop Global Bikes. Ideally, you would want GlobalBikes.COM but this is a pretty good domain name so it's been registered since 2001. How do I know this? You can find out with a quick WHOIS Search and a trip to the Wayback Machine. So instead you had to settle for something longer like GlobalBikesBikeShop.COM (FYI- true story). In this exciting world of New Domains, you can opt for Global.BIKE or even GlobalBikes.SHOP– the possibilities are endless! Now you wouldn't want GlobalBikes.COM as your store sign and definitely not GlobalBikesBikeShop.COM, but what about Global.Bike? For the first time, your new domain name can double as your business sign too.
DIY: New Generic Domain Name Business Sign
List of Necessary Supplies
A smart device such as a phone, tablet, laptop or desktop computer
Your favorite registrar (101domain wink wink)
A new TLD
A brick-and-mortar store
Some bikes
A good sign guy
Head on over to 101domain.com on your smart device
Search for the new TLD you want
Register your domain and add the free website builder
Call your sign guy
Before: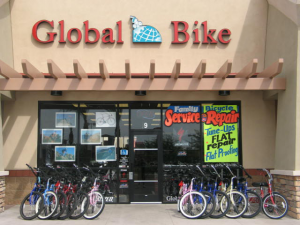 After:
What's better than a two-for-one deal? Not much! Now your domain name, online store front and physical brick-and-mortar location create a cohesive marketing platform around your brand.