Social media wasn't originally intended for the use of brands but it has become an essential part of every marketing mix. Social media strategy spans the business from social customer care to marketing and sales. The catch 22 with social media is that the social platforms have control over exposure in the feed. Facebook is bringing social media back to its roots and will begin prioritizing individual over brand content in order to promote meaningful social interactions online. With all of the changes coming to the Facebook Newsfeed in 2018 you may need to adjust your social media strategy in order to stay relevant.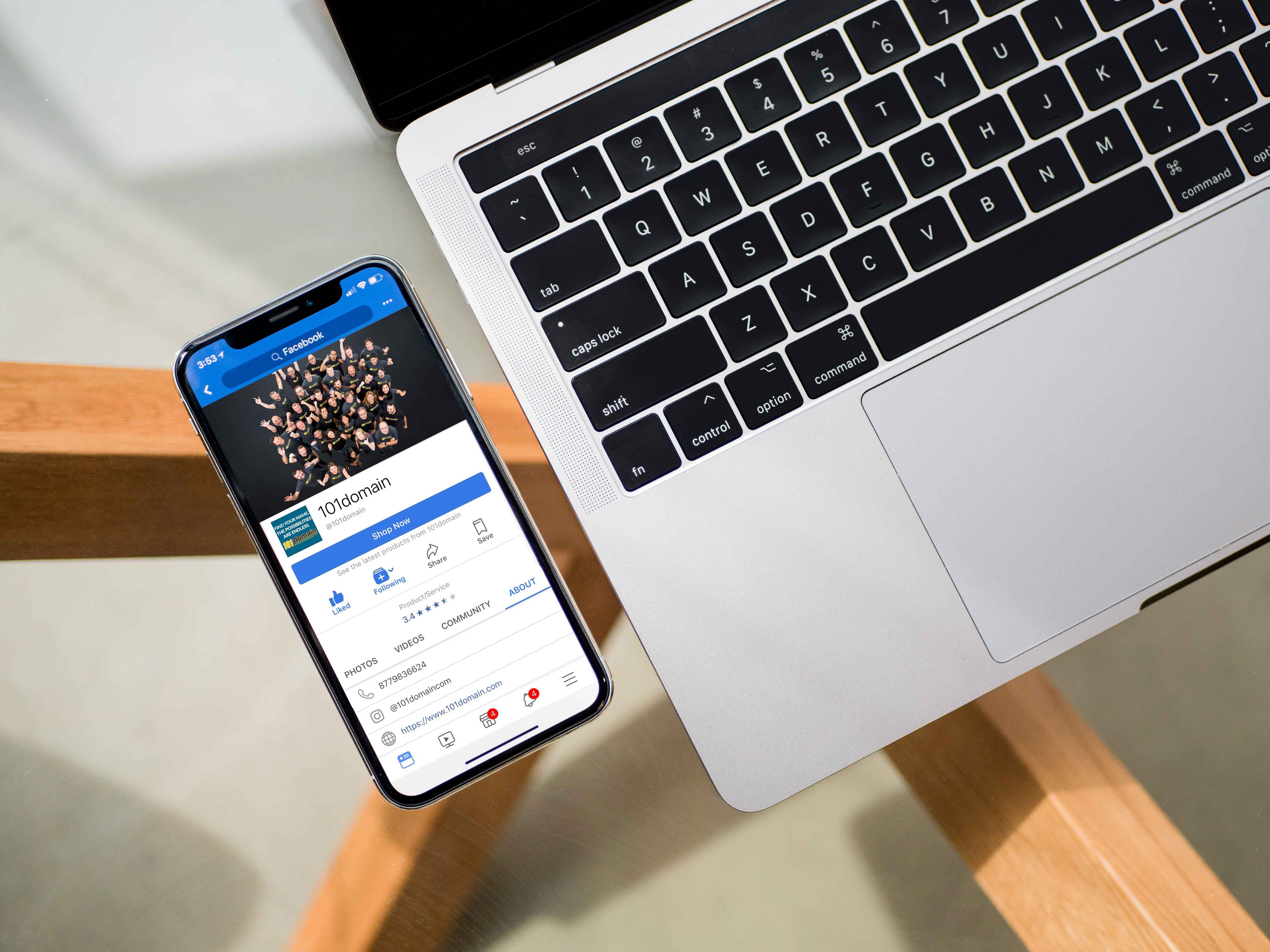 1. Quality content with a purpose
With so many brands vying for exposure in the Facebook Newsfeed amongst the meaningful interactions Facebook is looking to facilitate, marketing teams will need to hone in on a quality vs quantity content marketing strategy. Instead of pumping out a ton of content, or content for content's sake, each and every piece should be mindful of the emphasis of the new update – engagement. Articles that spark engagement, initiate commenting, and inspire users to share and tag their friends, is the direction in which publishers should be heading. As if creating viral content wasn't always the goal (insert eye roll), the point is to be more strategic about the type of content you choose to publish on Facebook or that you give priority to when you boost your posts in the Facebook Newsfeed, which brings us to our second tip.
2. Content promotion
Content promotion isn't a new concept. You can promote your content with Facebook ads or boost your posts to get more traction on the Facebook Newsfeed. Instead of just reaching users with Facebook ads, consider using ads to promote users to engage with your content. A new trend we will start to see a lot more brands take advantage of is influencer marketing. Social influencers with high organic reach will have a new found priority over brands when it comes to what Facebook considers meaningful social interaction. Partnering with influencers for promotional contests, coupon codes, and guest posting is an affordable way to ensure your content is seen with the new Facebook Newsfeed algorithm.
3. Artificial intelligence
The introduction of chatbots in Facebook Messenger has created an opportunity for brands to further extend social media as an avenue for customer support. Customers are keen on turning to social media when they need assistance, and if the support received isn't as close to immediate as possible, customers will become further disappointed and frustrated with your brand. Chatbots are a perfect example of how any business in any industry can benefit from investing in artificial intelligence, that's why the .AI domain is so high in demand. Get visitor's to try out your brand's chatbot in a Facebook ad or in a promoted post to ensure customers are engaging with your content and reaching out when they need further assistance.
Here are some examples of brands successfully using chatbots in Facebook Messenger. We tested a few of these out ourself to get a better idea.
HealthTap– HealthTap narrows down your health-related search queries and curates content from physicians and health professionals.
We tried out a common symptom. After the chatbot sent us some resources we decided to add another related symptom thinking it would narrow down the search results further but it reset the search and focused on the second symptom alone. This just goes to show that chatbots in Facebook Messenger is still new and there are improvements to be made.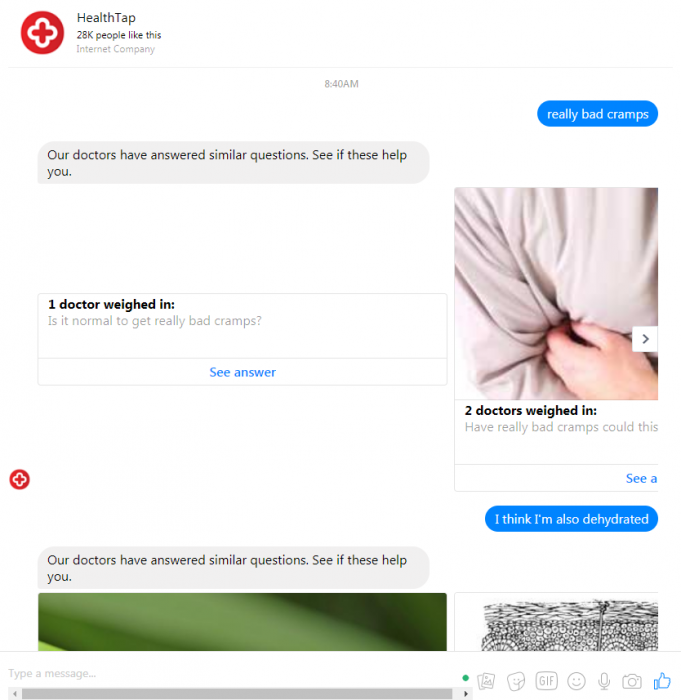 Poncho– Pancho is a cute cat-bot who sends you a personal weather forecast.
Fairly simple and intuitive process.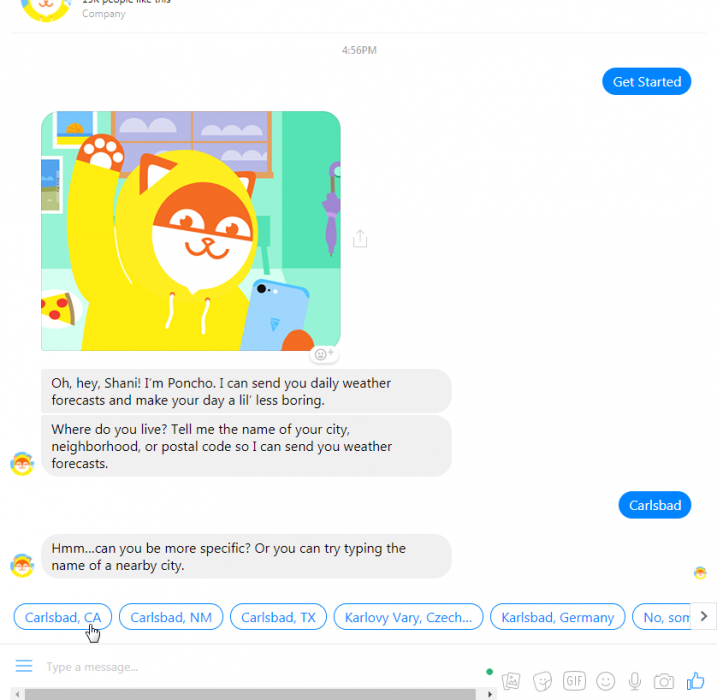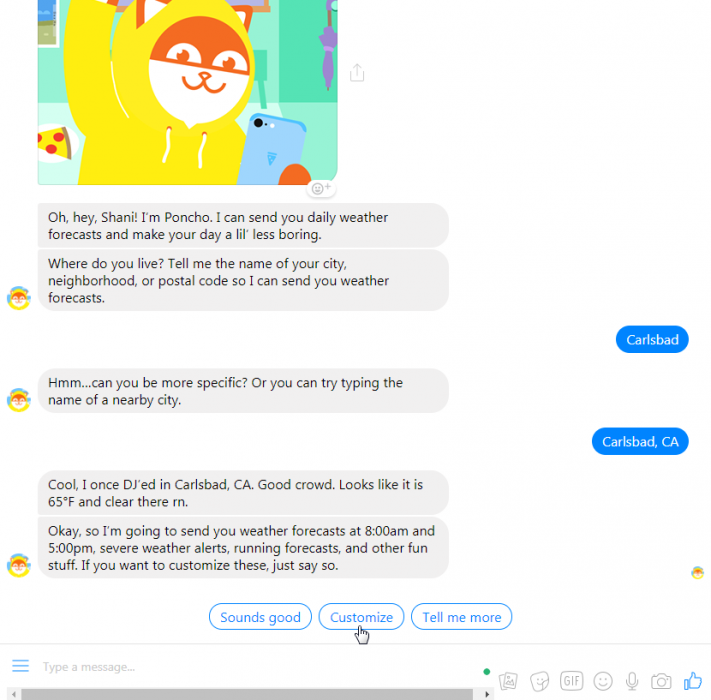 MemeGenerator Bot– Instead of downloading another app to create a meme, you can create one from your Facebook Messenger chat using the help of a chatbot.
We can affirm this is a great chatbot!