Seeing an HTTP website in the wild has almost become a rare occurrence. When it happens, it makes you question the integrity of the site and how well established the brand is. Since Google started penalizing HTTP sites, we have seen a huge increase in SSL adoption. More than 78% of all page loads in Chrome over HTTPS and over 68% of page loads in Android over HTTPS.

Adding an SSL Certificate to your site is no longer just a good security practice but a necessary one. In the past, the average Internet user was clueless to whether a site was safe or not. Although the visual indicators of SSL were there, it's not something users would pay attention to or even notice. Over the past few years, Google has taken steps to shed some light on this issue and keep everyone safe on the web. Now a Non Secure warning will display on all HTTP websites to deter customers from visiting them.
WHAT'S THE DIFFERENCE BETWEEN HTTP AND HTTPS?
Google is the official SSL checker 
Over 50% of users choose Google Chrome as their preferred browser. What this enormous market share tells us is that Google essentially gets to dictate how the Internet operates. You want your website served to as many people as possible which means you have to play by Google's rules. In an effort to achieve HTTPS everywhere, Google started using HTTPS as a lightweight ranking signal in the search algorithm. Over time they will put more weight on its importance to encourage all website owners to implement industry-leading security with SSL encryption.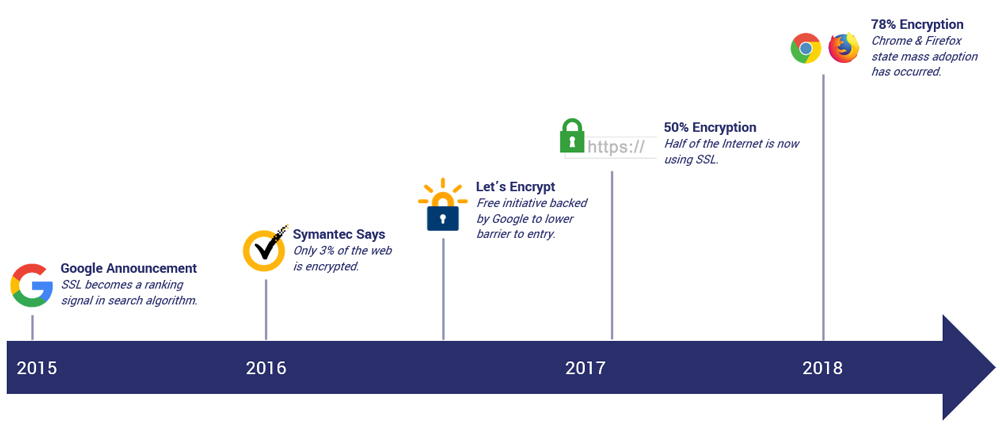 Google is the official SSL checker 
The Not secure browser warning is the equivalent of someone standing outside the front doors of your business with a sign telling people not to go in.
Luckily there is an easy fix and Google made it even easier by making it free. Let's Encrypt is Google's free-source SSL solution. 

Let's Encrypt certificates provide the bare minimum to prevent "Non Secure" browser warnings from displaying on your site. If you want to show your customers that you hold your business to higher standards, upgrade to one of our more powerful solutions and validate your website with visual security indicators.
Comodo SSL rebrands as Sectigo
We are proud to announce our partnership with Sectigo, formerly Comodo SSL. Sectigo is the largest commercial certificate authority in the world with over 100 million digital certificates issued. Sectigo/Comodo CA has over 20 years of experience working with Fortune 1000 companies. Together with our expertise in domain names, we have the perfect formula for creating trust online and increasing website conversions.

Get the perfect SSL certificate for your website today.