When it comes to our business, we try to cut expenses whenever and wherever we can. It's why we request multiple quotes for projects and undertakings and why we do our due diligence when picking one company or solution over another. The partners we choose to work with will influence the success of our business. In a market saturated with startups, entrepreneurs, and fierce competition, our partnerships could be the one thing that sets us apart. After all, the market only feels oversaturated because everyone is doing the same thing.
Is there anything better than "free"?
We aim to answer this age old question and more. Continue reading to find out how you can use the Cloudflare DNS service to speed up and secure your website infrastructure and set yourself apart from the competition operating with free DNS.
DNS is another acronym (like every Internet term seems to be), which stands for the domain name system. This system converts strings of numbers known as IP addresses (like 173.194.39.78) into something the human brain can understand and easily recall (like www.google.com).
Not only does DNS allow us to find websites, like in an address book, but it also stores relevant information like where a website is hosted and who the owner is. Most domain registrars provide free DNS with domain name registrations. If you are not sure which DNS provider you use, chances are you are using the free DNS that comes by default with your registrar or hosting provider.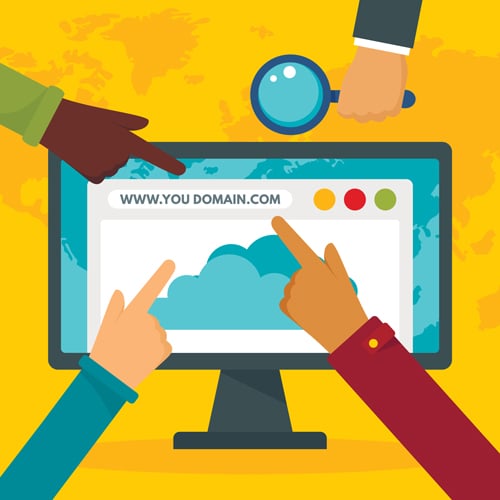 But domain names are not the only thing that functions in the DNS. Web browsers, email, chat, connected appliances, and many more internet properties do as well. Because everything is so interconnected with the DNS, it is oftentimes referred to as the "weak link." Free DNS services are an easy target and can be taken down by bored kids in a basement (script kiddies) or even your competition.
When it comes to choosing between free DNS and a paid version like Cloudflare DNS, the question comes down to the utility of your business.
The main ways in which DNS affect a business' infrastructure is with speed, availability, and security.

Speed – Slow response times frustrate users and can cause visitors to leave your site before it finishes loading. High bounce rates negatively affect your search engine ranking and ability for users to find you.

Availability – relates to uptime, and how often your website is online and available to users. Also know as redundancy, a redundant DNS system means that if one nameserver fails, another is readily available.

Security – The security measures of your DNS can safeguard your applications from DNS attacks.
Free DNS vs. Cloudflare DNS
See for yourself how Cloudflare stacks up against a free DNS solution.
Speed
Covers the basic needs of a website
Security
Limited security and configuration settings
Speed
Fastest DNS in the world
Reduces page loading time
Increases conversions
Lowers costs
Creates a better user experience
See the impressive before and after Cloudflare.
Availability
More than 200 data centers in 90 countries
100% uptime
Global and local Load Balancing
Distributes traffic to most available and responsive servers
Security
Built-in, unlimited DDoS mitigation
One-click installation DNSSEC
A network capacity 15x bigger than the largest DDoS attack ever recorded
Protection against man-in-the-middle attacks
Secures DNS records from spoofing and hijacking
Web Application Firewall (WAF) managed rules provide advanced security for enterprises
Cloudflare DNS is faster, better, and more secure
A paid secure DNS solution costs anywhere from a few dollars to a couple hundred a month for better website performance and more advanced nameserver setups. Our secure DNS service, Secure Web Accelerator powered by Cloudflare, improves your website security, stability, and most of all – loading speed, starting at less than $12 a year. That's nearly the price you pay to feed your caffeine addiction every day!
Learn how you can speed up your website and protect your web infrastructure with Cloudflare DNS for less than $1 a month.