Dropbox and Google are both common household names today. Although Dropbox may be the first to come to mind when you think of file sharing, the world's largest search engine also provides a business solution for cloud storage. It's called Google Drive. Whether you are working from home, from the office, or preparing your business for a little bit of both during the ongoing COVID-19 pandemic, you may be wondering which cloud storage solution is right for your company. Continue reading for our comparison of the two tools.
Google Drive
Free version available

Business and Enterprise plans ($12-25)

30 GB storage

Access anywhere

Sync across all devices

Offline access

Shared folders and links

Viewer information

Web previews and comments

Remote device wipe

File recovery (unlimited)

File locking

Viewer history

Shared link controls

Full-text search
Dropbox
Free version available

Professional plan ($16.58)

2 TB storage

Access anywhere

Sync across all devices

Offline access

Shared folders and links

Viewer information

Web previews and comments

Remote device wipe

File recovery (30 days)
The free Dropbox plan starts out with 2 GB storage and all the way up to 3 TB storage. One the other hand, the free Google Drive plan starts you off with 15 GB storage and provides unlimited storage (more than anyone could ever need) with the Enterprise Plus Google Workspace (formerly G Suite) plan. It's important to note that Google Drive is a part of the Google Workspace, which includes Google Meet, Gmail, Docs, Sheets, Slides, and more. Google Workspace gives you access to more applications with your subscription, all of which will use some of your cloud storage for saving files, photos, and documents.

A key proponent of cloud storage is the ability to share files. If you're still saving files the old way, you should invest in a cloud solution like Google Drive or Dropbox. Both platforms offer tools that allow you to share massive files and folders seamlessly to improve the collaboration of your organization. Medium to large sized businesses, or those who work with outside consultants, would benefit from robust features such as viewer history of documents to see previous versions and link sharing controls for security. 
Dropbox's automatic syncing doesn't nearly compare to the real-time collaboration you get with Google Drive. The beauty of Google Workspace applications is the ability to work on shared documents at the same time. You can even see other's changes as they are working. This lends itself useful for organizations with remote employees that frequently collaborate on shared projects.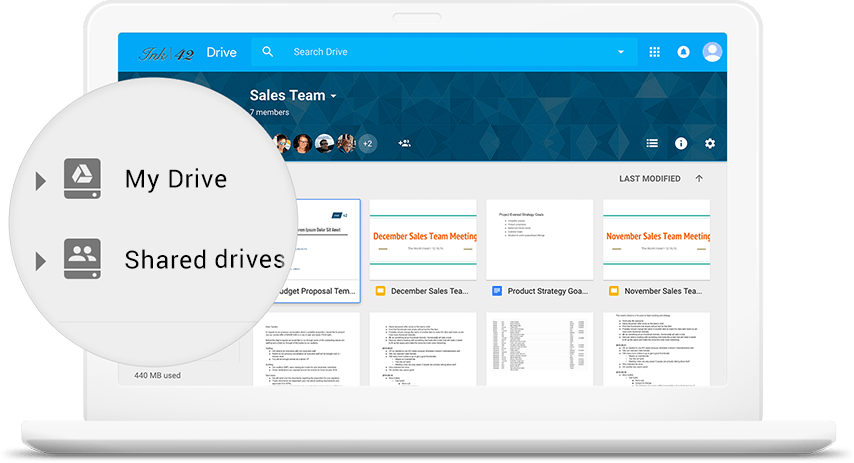 If you're moving to the cloud for the first time, you may be primarily concerned with security. Storing mission critical company data in the cloud is daunting. That's why it's essential you trust the cloud storage provider you choose. Both Google Drive and Dropbox offer industry-standard encryption and security features like remote device wipe, file recovery, and version history. In combination with other security strategies such as two factor authentication, companies have much less of a threat to worry about.
 Dropbox offers account activity monitoring of linked devices, active web sessions, and third-party apps with access to your account. If something doesn't look right you can cut off access to shared files and folders in seconds. However, when comparing the security of Google Drive vs. Dropbox, you'll see that premium security features such as file locking and shared link controls are available only in the Dropbox Professional plan, whereas Google provides these same security features for all plans, including their free plan. As a leader in security, Google promises the same security measures for their Google Workspace products as they use for their internal data.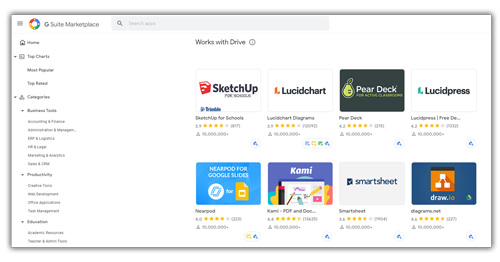 Google Drive
You get access to the Google Marketplace with your account. The marketplace features apps that integrate with and enhance your Workspace including Administrative Tools, CRM, Task Management, and much more. It even has a section dedicated to apps that work with Drive.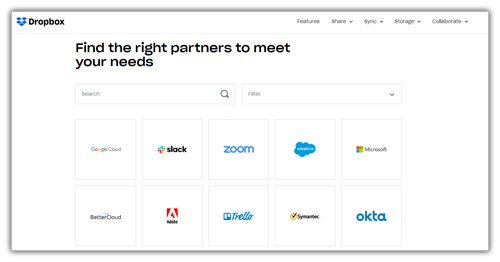 Dropbox
Dropbox easily connects to third-party partners like Trello, Slack, and Okta to ensure your business has all of the tools you use every day. They offer 184 technology partner integrations so you can get the most out of your Dropbox account from project management to IT security.
When deciding which cloud storage solution is right for your business, you have to consider the needs of your organization. Are you strictly looking for cloud storage that will integrate well with tools you already have in place like Microsoft, or do you want an affordable and all-inclusive platform to run your business? Google Drive, is a secure and reliable cloud storage solution trusted by enterprises around the world. As an organization who uses Google Workspace (formerly G Suite), the team at 101domain can tell you that we haven't skipped a beat while transitioning to working remote, and a big part of that is attributed to our use of Google Workspace. We use Google Workspace to stay focused, organized, and connected during these times.