The shift to creating remote organizations has become increasingly popular over the past several years. The COVID-19 pandemic accelerated the timeline of many companies making the transition to a work from home structure. For those organizations, there is a challenge to keep their team productive and engaged with the distractions of working from home. Fortunately, Google Meet and Google Workspace (formerly G Suite) make it possible for companies to take on the challenge with tools designed for success.
Google Meet is a popular application for voice calling and video conferencing included in Google Workspace. Workspace is Google's integrated suite of collaboration and productivity tools. Many businesses use Google Workspace as their primary business management platform because it is simple to setup, easy to use, secure, and affordable.
However, Google meet isn't the only video conferencing service in high demand. In an effort to cement themselves as a better tool for business than Zoom, Google Meet recently incorporated new features such as a tiled layout that lets web users simultaneously view up to 16 participants. Continue reading to find out what else we love!
Google Meet is the latest Google application to get a .new domain shortcut. Meet.new takes you directly to the "Meeting ready" screen where you can preview your video display and make adjustments to lighting and positioning, test your audio, and enable or disable your camera. This shortcut makes starting a meeting as easy as typing meet.new into your browser and sharing the meeting URL with your team. Traditionally, you would need to take a few extra steps to start a meeting on the meet.google.com homepage, from your Google Calendar or the Gmail sidebar.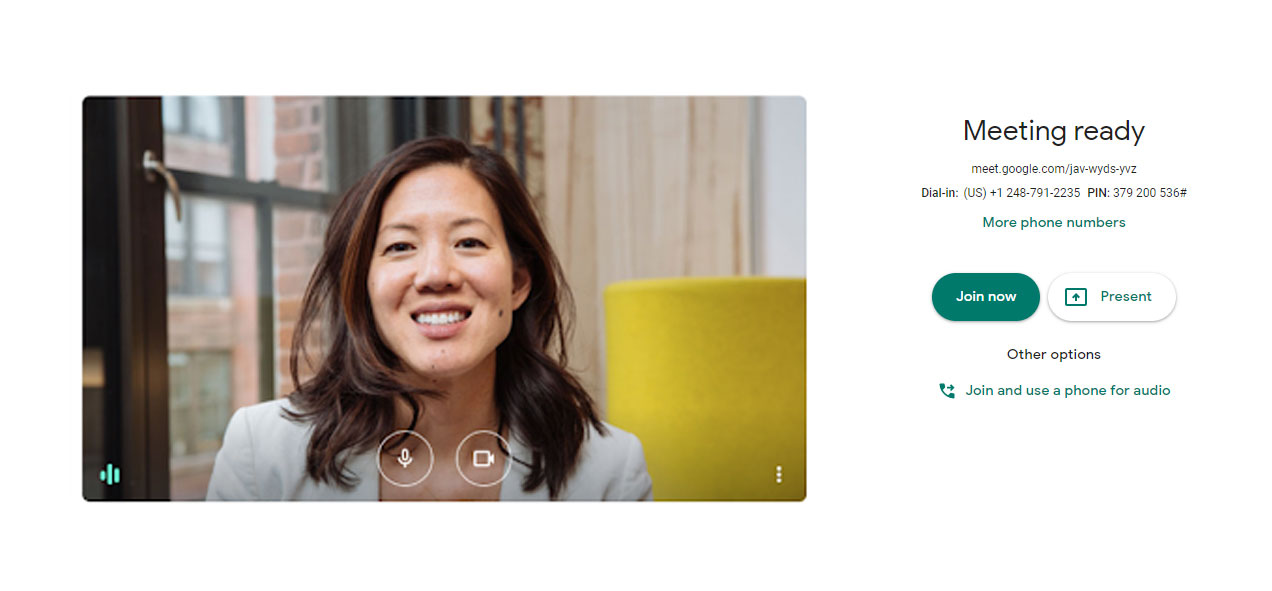 2. Google Meet Conference Recording
Not only can video conferencing be used in place of an in-person meeting or event, but Google Meet is particularly powerful for:
Training sessions
Presentations
Company-wide meetings
Virtual lunch and learns
Recording capabilities are ideal for participants who can't attend in real-time. Your team can refer to the recording at a later time or use it as a resource for onboarding new team members. Recording is an advanced features typically exclusive to Google Workspace (formerly G Suite) Enterprise plans. However, due to the pandemic, Google has extended some of these advanced features to all G Suite users at no additional charge until Sept. 30, 2020.
Google is a leader in Artificial Intelligence and Google Meet live captioning is a prime example of that. You can turn on automated captions that display at the bottom of your screen in real time to easily follow along with the meeting conversation and take notes on important subject matter.
The text will change as the AI picks up on context clues about what is being discussed. This feature is currently available in English only.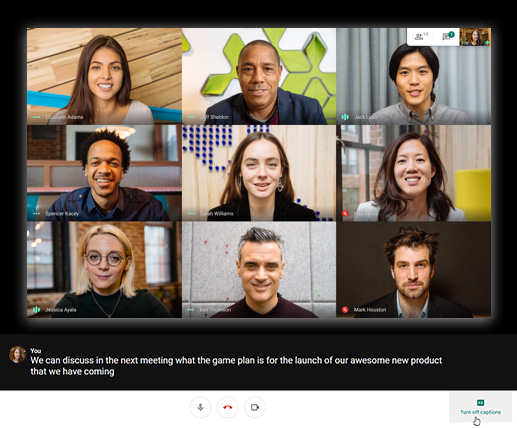 4. Google Meet & Google Slides Audience Participation
An example of how Google Workspace offers everything you need to run your business is the perfect partnership between Google Meet and Google Slides. You turn to Google Slides to create your presentation, and Google Meet to share it with your audience. But there is a super super awesome feature you may not already know about that allows you to interact with your the audience seamlessly throughout your presentation.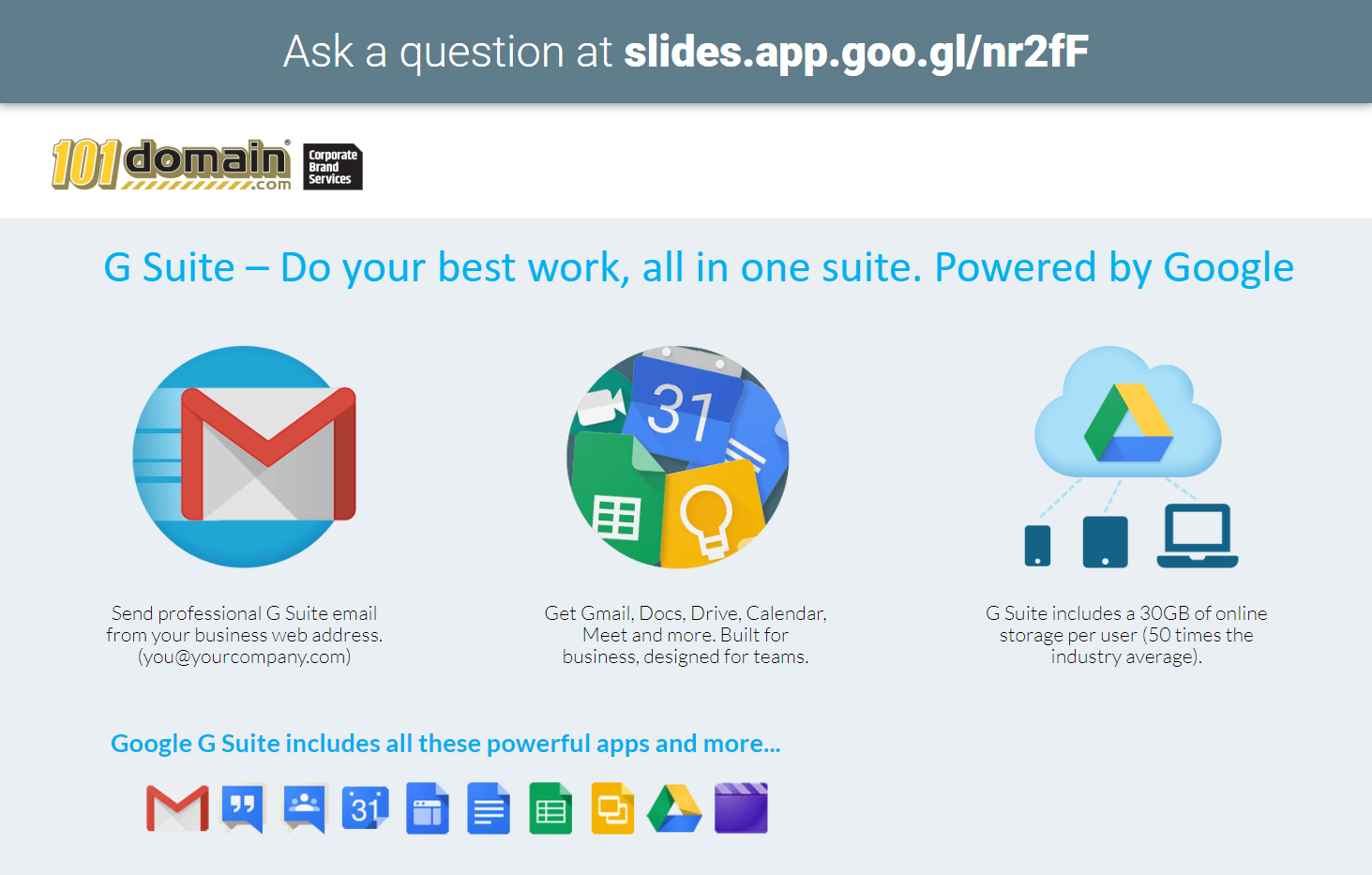 Use Audience Tools
You can use the audience tools in your Google Slide presentation to easily collect questions throughout your presentation. This feature will create a header on your Slides presentation with a custom short URL where users can ask questions.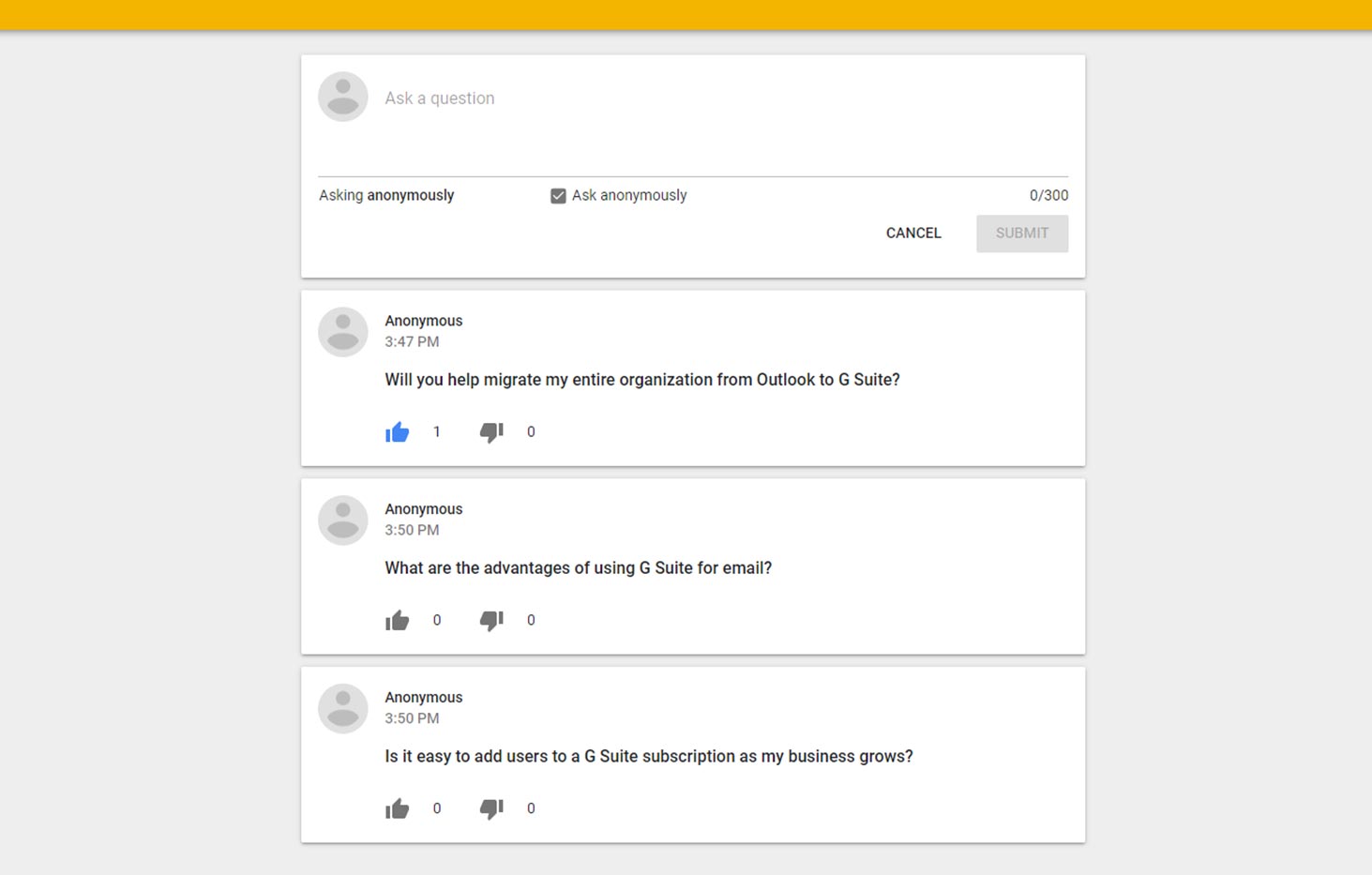 Collect Questions
While you're presenting in Google Meet, you can direct your audience to the URL. They can post questions of their own and thumbs up or thumbs down questions from other audience members. There is also an option to post anonymously.
As more organizations require video conferencing tools for day-to-day business, Google Meet has proven to be the easiest to use and most affordable option available. Stay tuned for what's coming next!
Blurred and custom backgrounds
Noise cancellation filters out background noise (Google Workspace Enterprise Plus only)
Live streaming to 100,000 viewers (Google Workspace Enterprise plans only)

Get Started With Google Workspace (formerly G Suite)
Your favorite collaboration & productivity apps for business from Google. Includes Google Meet.