Many of our enterprise customers ask us for advice on who in their organization should be responsible for managing their domains. This is a long-standing debate. Should the domain admin be someone in Marketing because they are responsible for changes to the website? Should it be Dev or IT because those are the tech-savvy folk? Or should we give it to Admin to handle? (like we do with all of our other miscellaneous tasks 😊)
The answer is going to vary from organization to organization, but the one thing we agree on for all customers, is that you should always manage your domains internally.
Imagine this Scenario: Your Domain Admin Goes MIA
Let's say you hire outside web developers to set up your website, which includes registering your domain names. They even manage all of the complicated DNS stuff for you. Awesome, right? Yes, very… until your tech guy goes quiet on you. He has a mid-life crisis, decides to get rid of all the technology he owns and travel the world alone to find himself. Or something a little less drastic.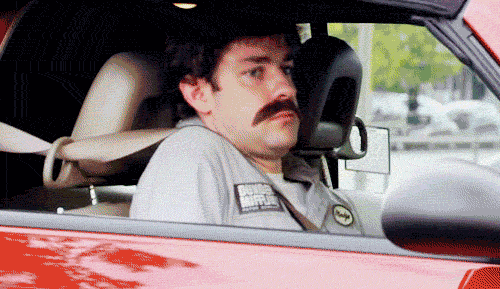 Either way, it is critical you login immediately and update your information. Otherwise, your website and all of your services will go down, costing you significantly. But you don't know where your domains are registered, let alone if you trust your registrar. Maybe you don't even find out about all of this until it's too late and your domain has already expired. Even worse, someone else swooped it up and is holding your domain hostage for a nice payday. What a nightmare!
The point is, anything could happen if a single person, outside of your organization is the sole domain admin with access to your account.
4 Pieces of Advice for the Domain Admin in Your Enterprise
A domain admin typically spends an average of 250 hours a year on domain name management. The following tips should significantly reduce the time and resources that you and your team spend on day-to-day work in this area while helping you rein in costs.
1. Use Company Name in the 
Organization Field
When you register domain names, you are required by ICANN to submit registrant contact information or WHOIS contact information.
What is WHOIS contact information?
Users can conduct a WHOIS lookup to retrieve information about domain name registration records such as the administrator contact information, billing contact, and technical contact. All results shown are captured from registries and registrars and framed in real-time. Some information is publicly available in the WHOIS, while other information is shielded, depending on your domain privacy protection settings and registrar's GDPR policy.
Something few people know is that whenever there is something added in the Organization field of the registrant contact, that is the legal owner. The first and last name is secondary because employees leave companies all the time, and domain admins change. 
If a domain admin registers a domain under his own name, and the Organization field is left blank, then that person is now the legal owner of that domain. That is where many companies get in trouble and why we always advise filling in the Organization field with the company name.

2. Use A Team Distribution Email Address 
Never, we repeat, never assign the email address as one person. Instead, create an email address such as [email protected] dedicated solely to domain management.
Add multiple people in your organization to the distribution list, that way, you have many eyes on essential email notifications. Also, in the event that your domain admin leaves your company, there are still multiple employees with access to the email address and other information that is critical to account access.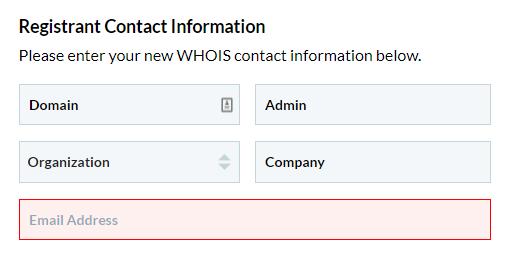 Want to split the work between a few people? 101domain allows account owners to create users for your main account. With account users, your domain admin, your tech guy, and your finance guru can all have access to their own accounts. Each user will have a dashboard personalized to the features they need and none that they don't. This increases collaboration and security within your organization.
We all want to avoid charges when we can. It sounds simple in theory, but the first step is understanding the fees a domain admin could potentially incur.
Redemption fee – If you let your domain expire, there is a grace period in which you can renew the domain without an additional charge. If you pass this grace period, the domain enters into redemption. Here, you have 30 days to recover domain names in redemption by paying a fee. The redemption fee is standard across the industry for every registrar. You should try to avoid redemption charges all costs because they are steep.
Name Server changes – when you first register a domain name, we will ask you where you want to manage your nameservers. By default, you can manage your nameservers with us. If you're going to change this and have your nameservers and DNS records managed elsewhere, you should make these changes at checkout. Otherwise, some domain registries charge a fee for making name server changes. To avoid charges your domain admin should familiarize themselves with your domain name registrar and domain registry's policies before registration.
Ownership changes – similarly, some registries charge a fee for ownership changes. There's not much you can do to avoid this one if you are buying or selling a domain name. However, it is an excellent example of why we advise above that you should always have the company in the Organization field. Although employees and domain admins may change, the company should forever remain the permanent owner.
4. Focus on Multi-Year Renewals
Renewals are at the top of the list when it comes to time-consuming tasks a domain admin might face when it comes to domain management. They are also the most important. Our advice is to take advantage of multi-year renewals for your mission-critical domain names. You can renew many domains for up to 10-year terms, saving you time, money, and streamlining your administration efforts.
Time is money. The less you have to worry about which domains are coming up for renewal, and where, the better. Because of this, we recommend consolidating your domain portfolio with a single domain provider and enabling auto-renew to ensure nothing slips through the cracks.

Your cornerstone to an effective domain name and brand management strategy.