Build a Secure Site for National Cybersecurity Awareness Month
The web is a wonderful place. It's where we go to connect with friends, share funny videos, unwind with a little retail therapy, and even launch our businesses and careers. But the Internet can also be a dark and scary place where people try to steal your personal and financial information. Whether you're an Internet user, a website owner, or both at times, there are basic steps you can take to build a secure site with Google and protect your visitor's information.
Secure site step 1: Install an SSL certificate
As a website owner, it is your responsibility to ensure that traffic to your website is secured with an SSL certificate. By encrypting traffic to your site with SSL, you ensure that communications to and from your website cannot be seen by an eavesdropper. You'll know a website is secure when you see visual security indicators like "HTTPS", a lock, or a company name to the left of your domain name in the URL bar.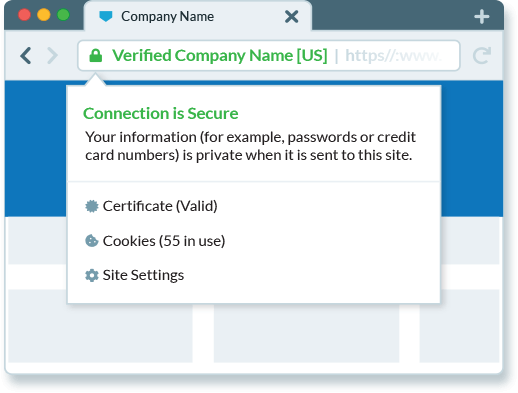 Let's say you were to mail a letter that contains a private message with your personal information to your friend. Would you rather send it on a postcard or in an envelope? An envelope is a physical example of an SSL certificate because it prevents third parties from reading or changing its contents on its way to the recipient.
1. Visit 101domain.com
2. Take a look at our selection of SSL certificates
3. If you have stricter security requirements check out our expert level SSL options (we carry 17 from Sectigo)
4. Add SSL to your cart
5. Check out and tell us what domain name you will be using. If you are using a domain name hosted with us your SSL certificate will be added to your site automatically! If you are using a domain name hosted with an outside provider you can follow this set-up guide.
Secure site step 2: Make sure your entire website is encrypted
A single page on your website left unencrypted is all a hacker needs to gain access to the rest of your site. To avoid this, you need encryption on your ​entire ​website, not just for pages that are collecting credit card numbers or log in info. Even pages you don't think customers will ever see or interact with, and unencrypted landing pages that redirect to HTTPS pages can pose a risk. Any non-encrypted pages can open a door for cybercriminals to snoop on the rest of your site. For this reason, you need to secure your site from the customer facing side to the backend and every page in between.
Use a top-level domain (TLD) that is HSTS-preloaded
The HSTS preload list is a list of websites which modern browsers will only load over an encrypted connection. For example, domains like .app, .dev, and .page are already on the HSTS-preload list. This means all you need to do is install an SSL certificate, and get the security benefits from day one. All you need to do is install your SSL certificate.
Apply for the HSTS preload list yourself
If you are not using a TLD that's already on the HSTS preload list, you can individually add your website at hstspreload.org. Keep in mind this can be a slow process and updates to the list are only made when new browser releases come out, which can take months to occur for all browsers.

We are celebrating National Cybersecurity Awareness Month with a special promotion of 15% OFF .APP, .DEV and .PAGE! All it takes is two steps to achieve a secure site with Google's HSTS pre-loaded TLDs and an SSL certificate.
This promotion is going on all October long!
Add Sectigo Positive SSL for FREE from Oct 1-31 *one per order*
Or add any of our other SSLs for 30% off until the end of the year!
(discounts will show in cart)