If you work in the technology sector you are probably familiar with all of the tech jargon associated with it. You have probably heard of the term tech stack. When you're building a brand, you want to start with a strong foundation. Your tech stack is your foundation. It's the entire ecosystem of frameworks, languages, and software products your web or mobile application runs on. Domain names are also an important part of your tech stack. Here's what we mean by that and why it's important for you to own your tech domain stack.
What is a domain stack?
We have talked about domain counterparts before on the blog. Some domains go together like peanut butter and jelly. The goal is to own your entire space online. Sure, you could own the domain name for your trademark for your industry, but this doesn't guarantee that someone else with the same trademark from another industry might not make a move on one of your domain counterparts.
Tesla, Inc.
 Take Elon Musk for example. Elon Musk bought his company's trademark for $75,000 in 2004. Elon was set on naming the company after Tesla, the great scientist/engineer. But the use of the Tesla name was already trademarked in the US, Europe & China. On top of that, buying tesla.com took over a decade and cost them $11 million. Before they were using teslamotors.com. There is no such thing as an original idea today. If you just thought of it, someone probably already owns the domain name for it. This is why it is essential to be proactive in claiming your online real-estate and in the case with Tesla your tech domain stack.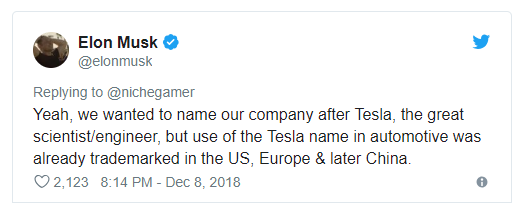 There is no such thing as an original idea today. If you just thought of it, someone probably already owns the domain name for it.
What is a tech domain stack?
A tech domain stack is comprised of all of the most popular domains within the start-up technology culture. The tech domain stack includes .ai domain, .io domain, .tech domain, .app domain and of course the classic .com domain.
.ai domain – .ai domain is the domain name for artificial intelligence. It is also less commonly known as the domain name for the Caribbean territory called Anguilla. In the age of artificial intelligence and machine learning, .ai domain has become a go-to website address for startups and tech companies.
.io domain – .io domain is the country code domain name for the British Indian Ocean Territory. However, it is better known as the domain hack for a tech term input/output. .io domain is an important part of the tech domain stack as it has become a favorite in the technology sector.
.tech domain – If you are going to own all of the trendy technology hacks in your domain name space you might as well own the original. If someone else were to own your technology company's trademark in .tech domain it would really defeat all the work you have done. .tech domain completes the tech domain stack.
.app domain – Behind every good idea is an amazing app, or at least we think there should be. You have a great idea for a new app, now you just need to put a face to it with a .app domain name. The .app domain is a favorite amongst app developers and mobile designers who want to make sure their apps get found online.
.com domain – Every premium brand owns their .com domain name. It is highly unlikely that your brand will ever reach a premium status without the .com. Most if not all of the good .com domain names have already been registered and you may only be able to secure yours for a premium price. It makes it easier to do so if you own the entire tech domain stack for your trademark term.
Whatever you want to call it – domain counterpart, domain portfolio or tech domain stack. The list of names goes on and on but the core concept remains. Today it is a necessity to own your space online by registering all of the domains in your tech stack, for whichever industry that may be.