For years, we have fantasized about what a world infused with artificial intelligence would look like. Would it be like WALL-E, where humans become so reliant on robots catering to our every whim that we neglect the environment and ourselves? Or would it look more like I, Robot, where AI becomes so advanced that it aims to take over the world? Today, we are on the cusp of that reality. We have self-driving cars, robots serving people at restaurants, and AI chatbots that can do our jobs for us. It doesn't matter what industry you are in. At some point, every organization will have to integrate AI into their workflows to avoid getting left behind. AI is still in its infancy, and the capabilities we see today are just the tip of the iceberg. 
Will your business sink, or will you swim?
AI isn't the future. It's here and now.
You may have noticed that AI is hot right now. Every day new artificial intelligence developments are dominating the news cycle and .ai domains registrations are flowing in. The introduction of ChatGPT brought a resurgence to the .ai namespace, which first took off in 2017 when startups adopted the country code domain of Anguilla for artificial intelligence. 
If you haven't heard, ChatGPT is an impressive AI chatbot designed to converse with users in natural human-like language. ChatGPT's ability to learn from conversations and generate personalized content based on user input sets it apart from other chatbots. ChatGPT smashed the record for the fastest-growing consumer application in history, gaining 100 million monthly active users within two months of launch. To compare, it took TikTok 9 months and Instagram 2.5 years.
Enthusiasm for AI spans countries and industries, with technologies like ChatGPT already being integrated into schools, hospitals, and marketing departments. Google recently announced a ChatGPT rival called Bard, which proves that Tech Giants are going on all on AI. This has inspired more .ai registrations and increased the value of .ai domains in the aftermarket, where some domain names are selling for tens of thousands of dollars.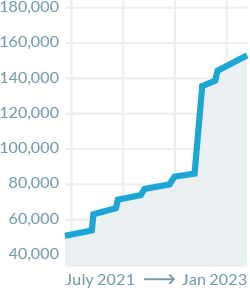 Whether your organization is already using artificial intelligence or has no immediate plans to, now is the time to secure your trademark or brand domain name while it's still available. Registering your domain name in .ai, .io, .ar, and other leading technology domains doesn't mean you have to hire a bunch of developers tomorrow and get to work. Defensive domain registrations ensure your brand is protected, which is especially good practice with a space such as artificial intelligence that has a lot of attention on it right now. 
We recommend registering the domains below and setting up web forwarding to your main website. That way, you can capture any traffic going to these URLs and prevent someone else from setting up shop there.
If you want to get in on the AI movement but are still determining where to begin, there are countless examples of how you can incorporate AI into your business. Here are three ideas to get started.
Chatbots are a great way to help customers find information quickly. You can use chatbots during the off-hours your team isn't in the office to direct visitors to resources they can use to find answers to questions or solve problems themselves. There are countless plugins you can use to get started.
We have also noticed an increase in .chat domain registrations, which is an excellent way to promote the use of your chatbot. Send your clients the short and custom link, or use it on your marketing materials.
Alexa and Siri are examples of smart assistants you have probably heard of before. Smart assistants can play a song request, search for an answer to a question online, make a reservation for you, or even turn on the air conditioner in your home. Google Workspace uses smart assistance technology to finish writing your sentences with Smart Compose, respond to emails quicker with Smart Reply, and generate doc summaries. To get started, brainstorm ways AI can help your customers save time when using your products or services.
Facial/Spacial Recognition Technology
Facial recognition technology is all fun and games when adding a filter to your photos and videos on social media, but it is also a tool that can give your business a competitive edge. If you have a product or service that is not ideal to buy online, such as eyeglasses, makeup, or furniture, you can use AI to help customers envision the end result. Allowing customers to try on sunglasses virtually, apply a shade of lipstick, or visualize your couch in their living room can increase conversions. 
AI is no longer a far-away concept. It is today's reality. Claim your stake in the future today, so you don't have to pay the price tomorrow.