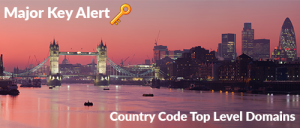 Selecting a domain can be an overwhelming process, especially for those of us who struggle with the simple decision of what to eat for lunch. If you're thinking of expanding internationally, you have a different choice to make – which Country Code Top Level Domain (ccTLD) you should you go with?
Global international domains are domain extensions that correspond to a country. The .CA domain tells a customer that they are doing business within Canada, the .DE domain with Germany, the .CN domain with China and so on. Having an internationalized domain name for your business can be the difference between gaining a lead and making a sale in a foreign country or not.
Location
When a local citizen is searching for businesses in their country, search engines will recognize this and rank global international domains higher in the search results. People like to support local businesses; it's the same reason why many Americans would prefer to purchase All American Clothing Co. t-shirts for their company versus ones made abroad. Customers are more likely to purchase from you if you appeal to their lifestyle, language and cultural values, all of which can be achieved with a locally targeted internationalized domain name. However, if your goal is to create brand awareness internationally you may want to register a whole deck of domains consisting of both Generic Top Level Domains (gTLDs) and country domains in each local area you want to sell, do business and rank in.
Availability
When a customer in the United States thinks of a company website address, their first thought is to automatically associate it with a .com, but an internet user in the UK would look be looking for a .uk web address first. Since the .COM domain has traditionally been the number one choice for web users, availability of good names is rare. But if you decide to go with a global international domain, you will have many more choices. You should also consider registering the matching .com domain name in order to capture all of the online traffic going to your brand name or keywords. Once you have both extensions you can easily forward one domain to the other.
Protection
Another reason to register multiple domain extensions is to protect your brand and trademark. Did you know that even if you have a trademark in the United States it may not apply in another country? Every country has its own trademark rules and regulations so it's important to ensure your trademark reaches globally. That's why it wouldn't be a bad idea to purchase a few different internationalized domain names from different countries, especially with those known for high instances of trademark infringing. If you're feeling overwhelmed, don't! We have a team of experts that can advise you in your international trademark issues, and introduce you to amazing services such as Trademark Monitoring and Brand Protection that will help you cover your bases. No matter whether you're ready to start purchasing domains or not, the best thing you can do for your brand is to be proactive.
Requirements
Many people are unaware of how domain registration requirements and procedures differ from country to country. The time frame for registering a country domain can vary from instantaneous to days and even weeks, depending on the sophistication and infrastructure of the country you're registering the domain. Many times countries also keep certain domains reserved such as two-letter country domains.
Some are stricter than others and require documents. If you want to expand your brand with a global international domain in a country that requires a physical presence, there are excellent Trustee Services available that help you set up a contract with local companies/trustees in that region.
When deciding if you should choose an internationalized domain name, keep in mind all of the advantages they offer. Country domains aren't right for everyone, but they might be right for your brand. Don't count them out, count them .IN!