The average Internet user doesn't necessarily know what domains are, let alone that there are different types of domains. Domain names are what most people would refer to as website addresses, but if you look at what comes after the dot—that's the domain. Domains are often referred to as "top-level domains" or "TLDs" for short, "domain extensions" and "domain endings". No matter how you say it, it all means the same thing. 
One of the most important steps in starting a website, or business in general, is coming up with a name for it. As soon as you have a name in mind you should register the domain name before someone else does. The Internet has been around for a while now so just like your Gmail address and social media handles—the good ones are often already taken. That's when knowing there are different types of domains comes in handy. In this article, we'll break down the different types of domains so you can find the perfect domain name for your main website and start building a domain portfolio around it for brand protection and awareness.
How many different types of domains are there?
The answer may vary depending on who you ask. At 101domain we classify 5 different types of domains in the following ways: classic generic domains, country-code domains (ccTLDs), international domains (IDNs), new generic domains (ngTLDs), and blockchain domains.
What are Cassic Generic Top-Level Domains?
Classic generic domains, also referred to as legacy generic domains, are the OGs in the domain world: .com, .net, .org, .biz, and .info. At 101domain, we have a special nickname for these core domains. We call them CNOBI. Can you tell the domain industry really loves acronyms? We have that in common with domain investors who are always scoping up premium 2-3 character domains.
The reason classic generic domains are so popular is that they have been around the longest and are available for registration by any person or organization for any use. There is a history behind these domains, however. All of the CNOBI extensions—besides .info—were originally created for a specific target audience. .info is the only domain in this category that was unrestricted from the start. 
As time went on, all of the classic generic domains were grandfathered as unrestricted due to a lack of enforcement. That's why anyone can register a .org domain, not only organizations, and it's also why we say some domains are more secure than others. We will expand more on this point later.
What are Country-Code Top-Level Domains?
Every country has a designated domain, called the country-code domain. It's easy to spot a ccTLD because they are always only 2 characters long. No other domain extension is allowed to be 2 characters or less.
Some country domains are more popular than others. China's country domain (.cn) and Germany's (.de) are always at the top of the charts of total registrations. The United State's domain (.us) is not as widely known or used by American citizens. 
Some country domains have requirements to register their domain names, while others are unrestricted. For example, to register Russia's .ru domain you need to provide documentation, to register Singapore's .sg domain you need a local presence in Singapore, while anyone can register the United Kingdom's .uk domain. 
Just because a country's domain has requirements doesn't mean you can't register it. Foreign individuals and companies can register a .ru domain if they provide an ID or company registration from anywhere in the world, and if you don't have a local Singapore address but want to register .sg domain, 101domain provides trustee services in over 58 countries worldwide. 
There are some unrestricted country-code domains that have become popular for another purpose than for the country they represent. Anguilla's .ai domain and British Indian Ocean Territory's .io domain are two prominent examples of this. .ai domain is commonly used by artificial intelligence companies and .io by tech companies. We call these "domain hacks" and you can read more about them in this article.
What are International Domains?
International domains are available in other language character sets. There are two types of IDN domains: partial (IDN.xx) or full (IDN.IDN). With a partial IDN, the domain ending is in Latin-based characters, while full IDNs are completely represented in that language's native character set.
Full IDNs offer the advantage of having the same character set on both sides of the dot. This allows a website visitor to type the full domain name without having to change the keyboard setting mid-typing.
What are New Generic Top-Level Domains?
New generic domains were introduced in 2012, with new ones being introduced every year. These ngTLDs were created to give people and businesses more options for names and as a way for Internet users to get a better understanding of what kind of content they can expect to see on a website.
Just like country-code domains, some are restricted and others are unrestricted. Restricted domains are often considered more secure, safe, and trustworthy because a registrant has to go through a process to get approved to register one, unlike .com where anyone can put anything online.
Some popular restricted new domains are .bank, .law, and .aero. To register .bank you need to be an approved financial institution and maintain strict security requirements. For .law you need to be an accredited lawyer or law firm, and to register .aero you need to obtain a SITA number from the .aero registry.
There are many different types of new domains like .sucks, .app, .vegas, .review, .garden, .kids, .beer, .vote, .kiwi… the list goes on and on. Many businesses register these domains for marketing campaigns that lead to unique websites or landing pages or redirect them to their main website.
Also, a little unknown fact is that any established public or private organization can create a top-level domain. It'll just cost you!
What are Blockchain Domains?
Blockchain domains are the new kids on the block—chain. Ba-dum-bum. Blockchain domains are different than the other types of domains in that they do not behave like normal domains. Blockchain domains are decentralized and not regulated by a central authority like ICANN. Additionally, they require special plugins to resolve in web browsers and do not work with value-added services at 101domain like SSL, email, and hosting.
They are considered experimental and at 101domain we caution our clients from registering these domain names as they have been extremely unstable. Some of the companies behind blockchain domains have been tied up in legal battles preventing owners from using, updating, or even renewing their domain names.
Where to Find Info at 101domain
You can find information about all of our different types of domains on our website. We have individual pages for each domain with information on pricing, how long it takes to register, requirements, and more. To find country domains you can enter countries or regions into the search bar and it will take you to the extension or category page.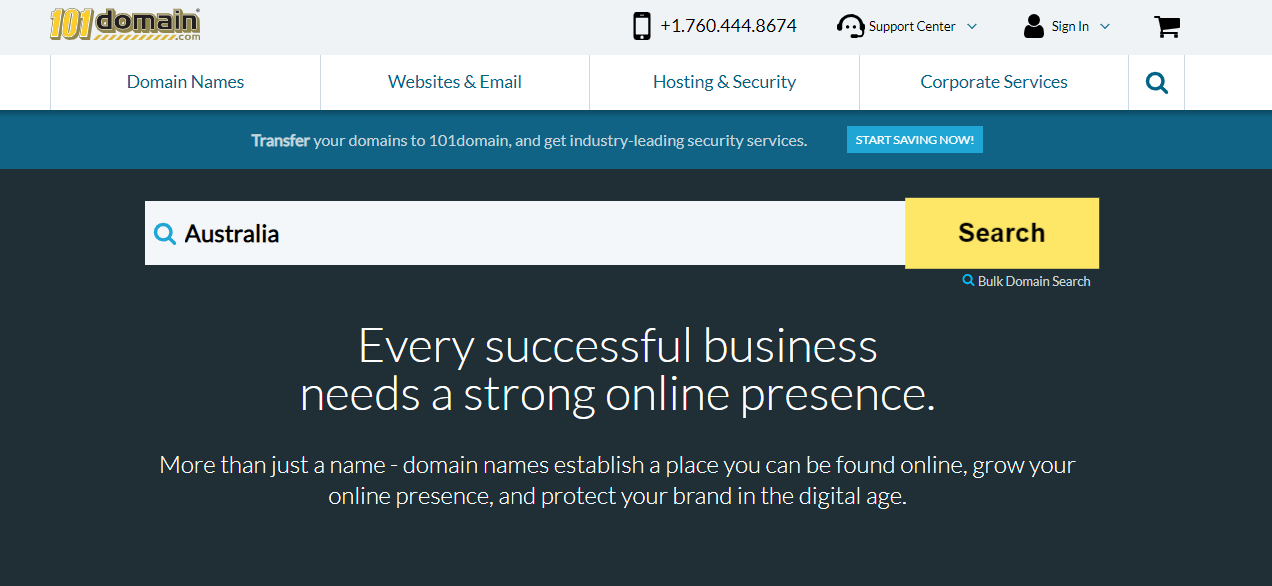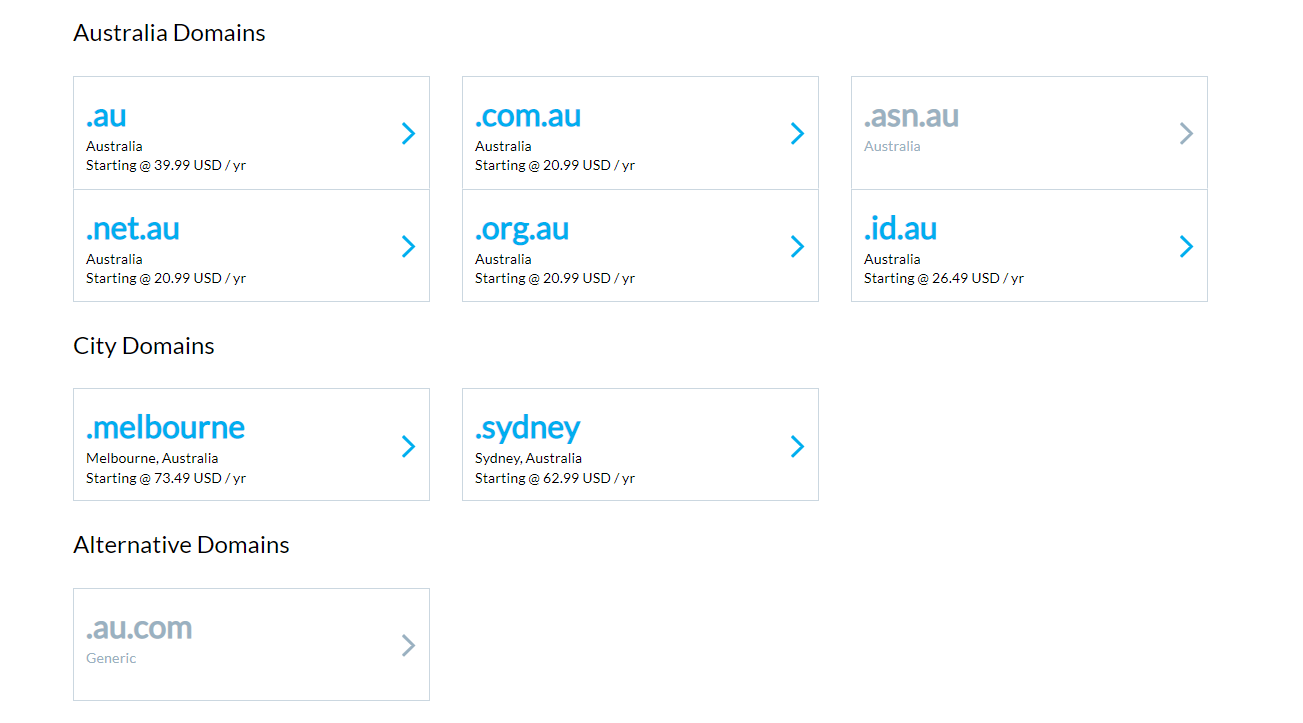 How to Use Domains to Protect Your Brand
If you have a business, you should register multiple domains to protect your brand. We recommend registering common misspellings of your domain name, country-code domains for international markets around you, and generic domains that make sense for your business. You can use any additional domains in your portfolio to redirect people to your main website using domain forwarding. Defensively registering domains or using a domain-blocking service is much easier and cost-effective than acquiring the domain or disputing it.
Start Registering Different Types of Domains
Want to expand your domain portfolio, but sure where to start? Contact your dedicated account executive or a member of our sales team and we can provide you with a Domain Availability Report. We'll show you what domain names are still available or already taken for terms you care about so you can cover your bases and make moves if someone is cybersquatting on your brand.